LEAF ACADEMY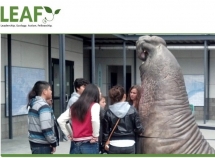 Summercamps
July 2013
LEAF's purpose is to develop awareness and inspire the youngest ones to face environmental challenges.
LEAF Academy offers a great program with an impressive moto: Leadership, Ecology, Action and Fellowship.
Lisa Craig Gautier, president of the association Matter of Trust (matteroftrust.org) partnered with the Erol foundation to provide this summer camps. For us, she answered a couple of questions.
What is LEAF's story in short? (who took the initiative, what's the main purpose, who got involved...)
LEAF Academy is based on the premise that middle school kids need more field trips because during the school year they have classes with different teachers all day long and so blocking time to go out in the field is much harder than for grammar school excursions. Still experiencing nature and ecology is more impressive than only reading it in a book. LEAF stands for Leadership, Ecology, Action and Fellowship. This was started by Presidio Hill staff and funded by the Erol Foundation 2 years ago.
Now that is has expanded to more schools, Erol brought in Amplifier Strategies and MatterOfTrust.org. Together with the founders, the LEAF Academy has now grown to be a series of courses with themes. For example, the FOOD unit starts with a trip to a farm, then a farmers market, then a restaurant kitchen, then a food bank, then a green waste facility. At the end of the course the students not only understand the concepts but are able to tell others about their week in their own words and with the scientific vocabulary. Kids will learn about cycles and systems and how to present this information to others and be active leaders in ecology. Fun games and activities allow them to form new bonds of friendship away from their city / school year lives and create a fellowship they can continue in future courses at the academy.
What - Where - When & For whom?
For Summer 2013 - themes are FOOD and WATER
The camps are for middle school kids ages 10-12.
Three 2-week long fun courses on ecology are offered this July
1) at Presidio Hill School / July 15-26, 2013
2) at Children's Day School (in the Mission) / July 8-19, 2013
3) at the Brower Center (in Berkeley) / July 22 – August 2, 2013
4) and a fourth one is offered in Portland.
The ratio of teachers to students is 1:10 and all transportation is by school bus.
What makes it so specific to SF?
It began here, and is based out of here, although it is expanding to Berkeley and Portland this year as the founding teachers move and broaden LEAF's horizons and access to more kids. :)
LEAF ACADEMY
July 2013
Summercamps in SF, Berkeley and Portland.
Price for a two week long course: $599
Program hours for all sites are: 8:30 am- 4:30 pm
Agenda
Movie releases, Festivals & DVDs

Theatre plays, Ballet, Opera

Jazz, Rock, Pop, Symphonic & Co

Museums and Art Galleries

If you have some spare time...