La SOIREE 2018 by the FACCSF will be more stylish than ever!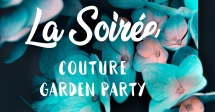 Here comes La SOIREE, the great event organized by the French American Chamber of Commerce of San Francisco, gathering the most talented French American actors of the Bay Area when it comes to food and wine.
The whole team at the French American Chamber of Commerce of San Francisco is working hard to make sure that all details are taken care of for La Soirée on November 16, 2018.
La Soirée,
the French American
gastronomy and Wine show 2018,
will take place
on Friday, November 16, 2018
7pm to 1am
@ the SF Design Center Galleria
La Soirée is definitely the best opportunity to meet the major actors who contribute to the French American sphere in San Francisco and the Bay Area for everything related to gastronomy and wines. A great networking event, with a gourmet, chic, festive and... very dancing ambiance!
It makes a lot of sense to remind that the French American Chamber of Commerce is a non- profit, non-governmental organization. They are a 100% independent and work with & for their members.
La Soirée is the annual Fundraiser and is crucial for the FACCSF.
LA SOIREE
An evening of food and wine tasting
La Soirée, as usual, is the great opportunity to attend wine and food degustations offered by local businesses such as Alter Eco, Artisan Macaron, Fabriques Delices, les Cook'ettes, Michel et Augustin, La Boulangerie, et aussi Bon Appetit Box, Café Bastille, Chef John Chacon – Vineyard Table, Feve Chocolates, Fournee Bakery, Frena, GALAXY DESSERTS/Pasquier, Goudy Charcuterie, Atelier Fine Catering, Ladera Patisserie, Laura Chenel, Les Délices d'Anne, Les Gourmands, Montibella Sausage Company, Petit Pot, Saveur Provence.
To browse through the whole Exhibitors line-up, click here.
VIP Cocktail
This year, you could also choose to attend the VIP Cocktail for a memorable culinary event 10 wine experts, including one Master Sommelier (Vincent Morrow) and 3 chefs - Claude Le Tohic, Roland Passot, Ken Frank - will participate to make it an outstanding gourmet experience, with Gerald Hirigoyen (restaurant Piperade) being the ''food donator''.
The Dance Party
After 10pm, LA SOIREE will turn itself into a dance party. The program... a DJ, an open sparkling bar and you on the dance floor.
The Raffle
Buy your tickets for the Raffle at LA SOIREE. Awesome prizes offered by French Bee, on the one hand, - the French Company connecting Paris to Tahiti with one stop... in SF - and CALPARRIO, the most renowned travel services agency among the French local community.
And the online Auctions !
If you are not familiar with the concept yet, you should know that the auctions represent a very active, dynamic and efficient part of the fundraising.
Enjoy, take your chance (sometimes that's all it is about!), pick the items that you really like, be gourmet, be tempted, be elegant, be athletic, go to a movie, cook, learn how to cook, book an amazing trip, escape SF (and come back)...
The French American Chamber of Commerce de San Francisco opened its online auctions, with items offered by its members or sponsors. You buy them by placing your bids and overbidding when you really want them. The profits, as always, will directly contribute to the fundraising campaign for the FACCSF.
Now you know everything about LA SOIREE, grab your tickets and have a wonderful French American Friday evening!
French American Chamber of Commerce of San Francisco
37th Fundraiser
Friday, November 16, 2018
@ the SF Design Center Galleria
101 Adam Street, San Francisco
For more details regarding La Soirée >> click here.
For the online auctions >>click here.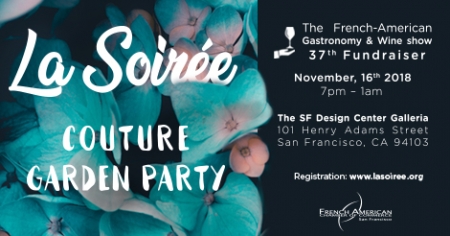 Agenda
Movie releases, Festivals & DVDs

Theatre plays, Ballet, Opera

Jazz, Rock, Pop, Symphonic & Co

Museums and Art Galleries

If you have some spare time...