KANGADO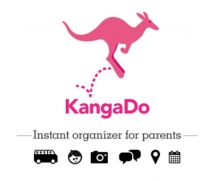 A new app we love in the effervescent "Family tech" sphere.
Here is KangaDo, a new app that could definitely change your life and make it so much easier!
The latest version is available for iPhone and Android. KangaDo enables busy parents and their trusted friends, to help each other get more done. All with peace of mind. Private, free instant messaging with photo and location sharing allow to instantly set up carpools, childcare, playdates and more while on the go.
If you already felt this weariness coping with dozens of emails and text messages (especially the "reply to all" series!) regarding your little one's soccer practices, your teen's dance classes and the birthday parties every week end... you are going to fall for KangaDo and make it your favorite!
We met Sara, the co-founder of KangaDo. She tells us everything we should know about KangaDo.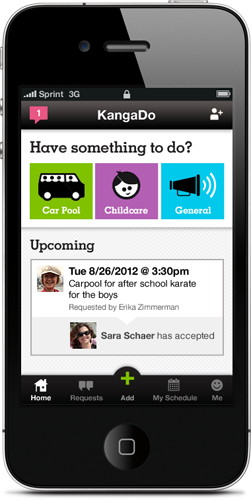 What is KangaDo? How does it work?
KangaDo is a new iPhone app that lets busy parents and their trusted friends instantly organize their kids' activities, like carpools, childcare and playdates – without the endless email trails and text messages.
First, download KangaDo from the App Store. Then, invite your friends (or caregivers) to join you in the app. Once you're connected, make a request. Ask for a ride to school, for example. You'll get notified on your phone when a friend accepts, and you'll get reminded when it's time for the ride, as well as when it's done.
You'll be surprised how quick and easy it is! And friends really do want to help each other out. They just need a more efficient way to do it.
How did you come up with the idea for KangaDo?
I have two sons, now 8 and 10 years old. When they were born, I struggled to figure out how to keep pursuing my career as a product management professional in Silicon Valley, and still do what needed to be done for my kids. I was reluctant to ask anyone for help – and when I did, it took too long to organize. Then I got a smartphone - an iPhone. I quickly realized what a timesaver it was for a busy mom like me! That's how the idea was born.
How are people using KangaDo?
The app has not been live for long, but already we are seeing significant activity. We are excited to see it grow! KangaDo has been downloaded all over the US – and all over the world, including France - even though the app is currently only available in English. We just released the latest version last week, and plan to add more features soon.
People are using KangaDo to schedule carpools, childcare and playdates, as we expected. But they are also using the app to coordinate a wide variety of other things such as school events, doctor's appointments or grocery runs.

We love your logo. What does KangaDo stand for?
We wanted an animal mascot that represented speed and energy, yet was associated with caring for its young. Since the app is about helping parents get more done, it seemed logical when one of our designers came up with "KangaDo."
Other than KangaDo, what is your favorite app?
I would have to say Spotify – I need to have my favorite music with me! I am also trying out Vine, Twitter's new video app.
To get more information about KangaDo
You can email Sara
You can follow KangaDo on Facebook
Or go directly on www.kangadoapp.com to get the app.
Agenda
Movie releases, Festivals & DVDs

Theatre plays, Ballet, Opera

Jazz, Rock, Pop, Symphonic & Co

Museums and Art Galleries

If you have some spare time...