Jean-Michel Jarre will perform at the City National Civic.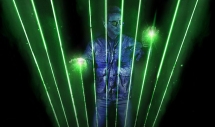 Jean-Michel Jarre is among the few French artists who have been invited to Coachella. Between 2 concerts in Indio, he will bring his Oxygene and Electronica to the City National Civic in San Jose.
For the 2018 edition, Coachella's organizers paid some tribute to the French electro music, inviting one of its pioneers and trailblazers, Jean-Michel Jarre, and one of its youngest protagonists with Petit Biscuit.
In 2017, Jean-Michel Jarre celebrated the release of 3 new albums in less than 2 years with his first ever North American tour. Beforehand, his only concert in the US was in 1986 for Houston's 150th anniversary.
For this tour, he performed in different renowned venues such as the Bell Center in Montreal, the Radio City Music Hall in New York or the Greek Theatre in Berkeley. Almost small intimate concerts in comparison with the giant events he has been known for.
We were in Berkeley last May. No need to have been an early fan (even though there were definitely many ones at this concert) to enjoy and appeciate the moment. Jean-Michel Jarre has the whole stageplay under control. Everything, every details are perfectly put together, and the outcome brings you in awe and wonder.
When Jean-Michel Jarre starts this laser harp piece, the venue becomes silent and then, the audience progressively get thrilled by the performance that looks and sounds like a ceremony.
Here is a short video we shared on Instagram during the concert... > Jean-Michel Jarre concert Greek Theater Berkeley Oxygene
So far, Jean-Michel Jarre announced 5 new concerts in April besides San Jose: Vancouver, Seattle, San Diego, Grand Prairie and ... Houston 32 years after the cult 1986 concert he gave there. > Jean-Michel Jarre concerts in April 2018
Jean-Michel Jarre
@ the City National Civic - San Jose
Sunday, April 15, 2018
To buy your tickets, click here.
Agenda
Movie releases, Festivals & DVDs

Theatre plays, Ballet, Opera

Jazz, Rock, Pop, Symphonic & Co

Museums and Art Galleries

If you have some spare time...