Isabelle Huppert is Elle for Paul Verhoeven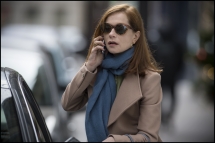 Isabelle Huppert is the main character of ELLE, the latest movie by Paul Verhoeven, a French thriller with Charles Berling, Laurent Lafitte and Virginie Efira.
It happens that ELLE by Paul Verhoeven has been nominated as Best Movie in a Foreign Language at the upcoming Golden Globes. And Isabelle Huppert will compete as best actress.
She will compete with Jessica Chastain (Miss Sloane), Ruth Negga (Loving), Natalie Portman (Jackie) and Amy Adams (Arrival). Impressive selection!
Elle, the story in brief...
A successful businesswoman gets caught up in a game of cat and mouse as she tracks down the unknown man who raped her.
Michèle (Isabelle Huppert) seems indestructible. Head of a leading video game company, she brings the same ruthless attitude to her love life as to business. Being attacked in her home by an unknown assailant changes Michèle's life forever. When she resolutely tracks the man down, they are both drawn into a curious and thrilling game—a game that may, at any moment, spiral out of control.
The trailer...
Director Paul Verhoeven is one of the most provocative and controversial storytellers creating film entertainment today. His films reflect uncompromising vision, fascination with life's moral dilemmas and honest depictions of sexuality and violence.
The film stars celebrated actress Isabelle Huppert who is renowned for her ambiguous adn equivocal parts and adds with her talent to the tension and the anxiety.
It is an adaption of Philippe Dijan's popular and Prix Interallié winning novel ''Oh...'' You may know him for 37˚2 le matin that inspired the movie Betty Blue with Beatrice Dalle.
ELLE
By Paul Verhoeven
With Isabelle Huppert, Laurent Lafitte, Charles Berling, Virginie Efira
Opens November 18, 2016 in San Francisco and the Bay Area.
For theaters and showtimes in the US, check FrenchFlicks.com.
ELLE is a Sony Pictures Classics release, runs 130 minutes, is in French with English subtitles, and MPAA Rated R for violence involving sexual assault, disturbing sexual content, some grisly images, brief graphic nudity, and language.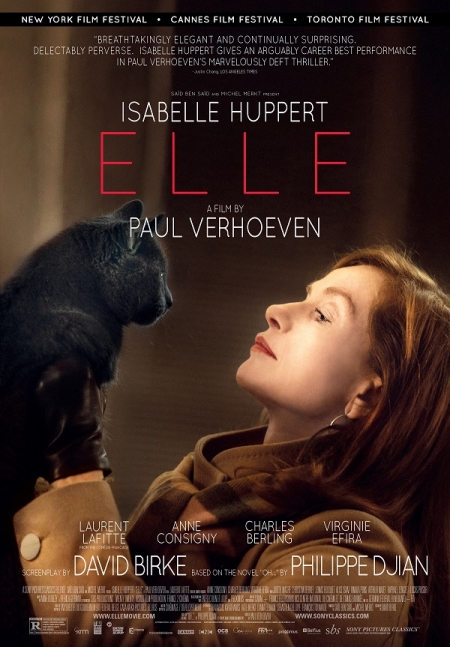 Agenda
Movie releases, Festivals & DVDs

Theatre plays, Ballet, Opera

Jazz, Rock, Pop, Symphonic & Co

Museums and Art Galleries

If you have some spare time...