Into Street Art territory, from Paris to Tahiti, with a stop in San Francisco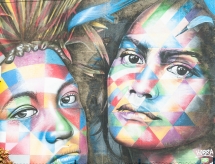 Let us remind you one more time about our trip to Tahiti with French Bee. We came back, the head filled with memories and the camera with tons of amazing pictures
What connects Paris, San Francisco and Tahiti...? It's French Bee, of course, the new low cost company now operating from Paris Orly to Papeete with a stop, here, in San Francisco.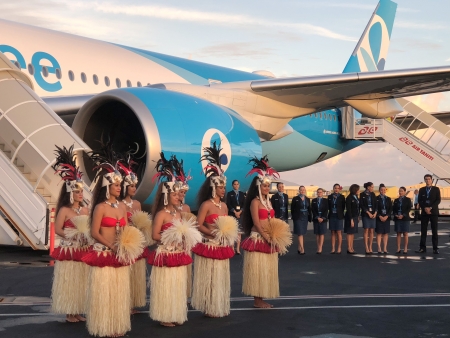 > http://lostinsf.com/avec-french-bee-la-route-de-tahiti-passe-desormais-par-san-francisco
Street Art is the other thing the 3 places have in common.
When in Papeete, you will definitely go to the market and enjoy talking to vendors, discovering their stories and crafts, you will have dinner at the ''roulottes'' (Like our food trucks here in San Francisco. Another thing we have in common.) and you will love simply to walk all through the city, meeting floral crowns creators, checking preal markets and finding out about the beautiful murals dispatched here and there.
For 5 years now, the ONO'U festival has been coloring Papeete's walls and turning the cityinto a Street Art Museum.
This year edition is going beyond its usual boundaries and will also explore Moorea, Bora Bora and Raiatea. Sabrina and I were fotunate enough to discover Papeete, Tahiti and Moorea along with French Bee's press tour. We plan to go back as soon as possible with the family with Bora and Raiatea as new destinations to explore.
With Sabrina, equipped with her cameras, we roamed around the ciy and discovered Street Art treasures and gems.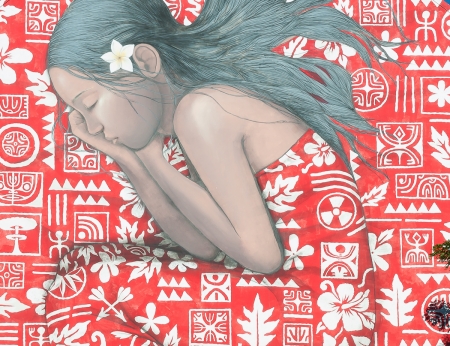 Photo by Sabrina Bot
We fell in love with the sleeping beauty, the tiled bird, the smiling indian with a watchful eye, the woman'S face, kind of sad and nostalgic, or also the deep and unfathomable optical illusion.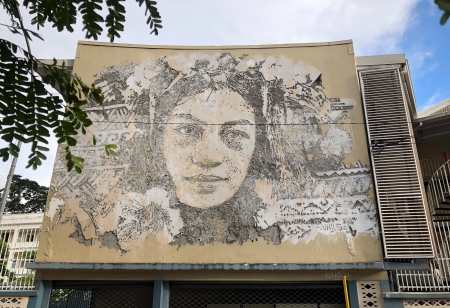 Photo by Sabrina Bot
Vhils, the street artists who created this mural, has a reputation to make walls talk and revitalize neighborhoods. An exhibition, dedicated to his work, is currently taking place in Paris.
> Fragments humains - Paris - 104.fr
During your stay in Papeete, don't miss this Street Art journey in the ciry and start or finish with the Street Art Museum, just right next the rainbow stairs. Its galleries will surprise you so much.
For the lips, that remind us of Fnnch' ones or the tiger (who has a a companion in Clarion Alley) , there is a double reading, a double viewing that leaves you in awe and with a smile ... on your lips, of course.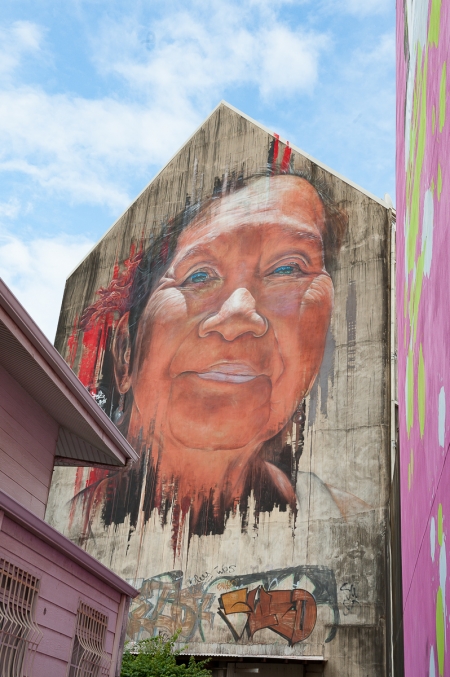 Photo by Sabrina Bot
To take a glimpse at all the Street Art gems we found here and there in Papeete, follow LostinSF and Sabrina on Instagram.
> SabrinaBotPhoto on Instagram
> LostinSF on Instagram
Agenda
Movie releases, Festivals & DVDs

Theatre plays, Ballet, Opera

Jazz, Rock, Pop, Symphonic & Co

Museums and Art Galleries

If you have some spare time...