IN THE BEATLES MOOD... AT THE TLF WITH THE SUN KINGS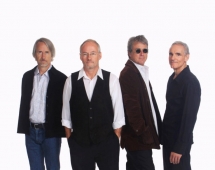 The TLF will welcome The Sun Kings on Friday, March 3, 2017 for a Beatles evening.

Going into their soon 20th year and considered as one of the premier Beatles Tribute acts in the country, The Sun Kings continue to amaze their fans and win over skeptics with their uncanny channeling and respect for the music they perform.With a repertoire of over 150 songs, and spanning the entire Beatles epoch - from Hamburg to the Rooftop - The Sun Kings shine in concert with spot-on arrangements and vocal harmonies delivered with a driving energy, joy, and vitality that recall the earliest Beatles performances.
That evening will give you the opportunity to share some history and Rock moment with the kids while supporting the TLF.
You could talk about vinyls, discs with 2 sides, the Beatles in the 60s and realize that Paul McCartney enchanted Coachella,last Fall (Travel... and apparently Rock, can keep you young!), the Beatles Mania at that time (... if Instagram had existed in the 60s!) and be part of a large live karaoke (honestly, would youb resist singing?)
There are not so many repertoires you can easily sing without closed captions! Even so, nothing prevents you from practicing a bit. We randomly selected Love me do, Help! et A Hard day's night.
In the mood for some Beatles tunes? Book your Friday night on March 3rd.

The Sun Kings
At the TLF
Friday, March 23, 2017
To buy your tickets, click here.
Agenda
Movie releases, Festivals & DVDs

Theatre plays, Ballet, Opera

Jazz, Rock, Pop, Symphonic & Co

Museums and Art Galleries

If you have some spare time...