In April, the Patrouille de France will cross over the American sky and visit us in San Francisco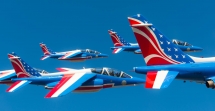 The Patrouille de France gave an impressive and memorable airshow in New York on March 25 as a start to its amazing 2017 North American tour that will last until May 4.
[last minute update]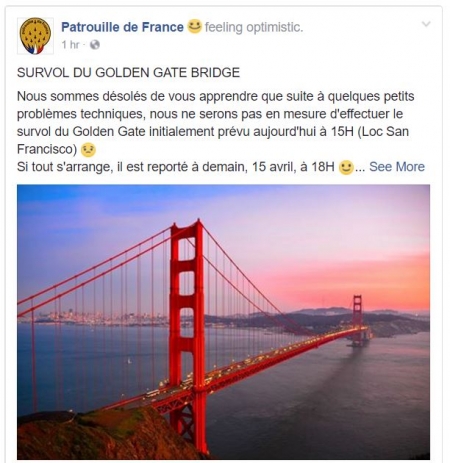 The Patrouille de France had not participated to that kind of event since 1986, that was for the 100th anniversary of the Statue of Liberty. The Patrouille granted a nice visit to the Great Lady as a tribute to start its North American tour that commemorates another 100th anniversary, the one of America's entry into World War I in France.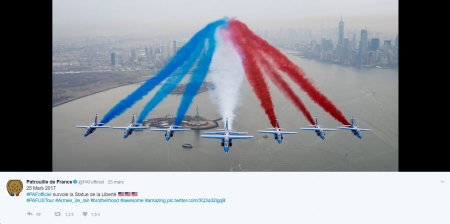 Follow the Patrouille de France on Twitter.
Following the very symbolic New York flyby (between the Statue of Liberty and the Freedom Tower) on March 25, the Patrouille de France went to Washington.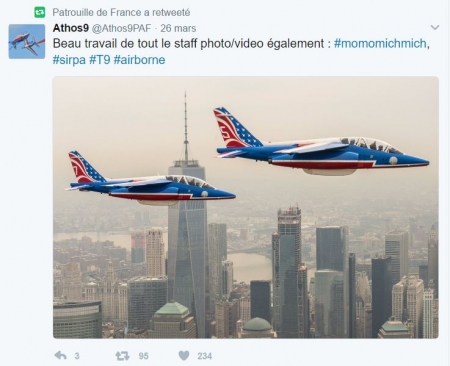 Follow La Patrouille de France on Twitter.
Then, after a short break, the Patrouille will return, leaving from Melbourne (Florida... ) and will perform shows and meet the great Thunderbirds and Blue Angels, on its way to... San Francisco. There, after a Golden Gate Bridge flyby, the French engines will fly back to Quebec with some other stops on their schedule.
http://airshowstuff.com/v4/2017/patrouille-de-france-officially-announces-airshow-schedule-for-2017-north-american-tour/
On April 13, tourists who planed their trip to the Grand Canyon on that day, will have a very blue-white-red surprise.
And then, we don't have the exact showtimes (but will share them for sure as soon as available) over Sacramento and San Francisco, but mark your calendar for April 13 to 16. Here, we are used to the Blue Angels. They lent the San Francisco sky for a few days to the French team that will confer a Bastille Day effect to our beloved Golden Gate Bridge.
[update] The unique Airshow will take place on Friday, April 14, 2017 at 3pm.
The show should be unique and memorable. Be prepared for amazing photos. We can already forecast a star spangled ''Bleu-Blanc-Rouge'' Instagram!
The Patrouille de France
2017 North American Tour
Photos credits : Patrouille de France
Agenda
Movie releases, Festivals & DVDs

Theatre plays, Ballet, Opera

Jazz, Rock, Pop, Symphonic & Co

Museums and Art Galleries

If you have some spare time...