Ice Cream 2.0!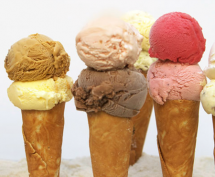 As Bay area residents, you have obviously heard of web 2.0. Let us introduce you to Ice Cream 2.0, a new generation of ice creams. The criteria to get this LostinSF's label? Ingredients have to be organic, seasonal and locally grown whenever possible. Flavors ultra-creative and taste buds fulfilling, and the production method revolutionary.
The addresses below have all this. Try them as soon as possible :
Smitten Ice Cream
Ice creams are made in front of you, with a mixer that uses liquid hydrogen to get a creamier texture. Flavors change everyday: summer herbs (rosemary, thym, basil, mint), salted caramel, peach ginger, rhubarb crisp, apple cheddar…
Where? A recycled shipping container in Hayes Valley.
Scream Sorbet
This sorbet maker uses not only fresh organic ingredients, but also nuts to get a densier texture. It took a few months to Nathan Kurz, the founder, to perfect his method and buy the right utensil, a Pacojet mixer (much better than a simple ice-cream maker!). Flavors are a mix of vegetables and fruits: Almond Pink Peppercorn, Apricot Cherry, Aprium or Carrot Walnut.
Where? At Bay area farmer's markets (Ferry Building for instance) or in their Oakland store.
Ici
Open by a former Chez Panisse chef, « Ici » is a popular sweet and ice-cream store in the East Bay. And there, there is a ceremonial: you'll have to line up in front of the store, taste some flavors, take your time to decide, and after a few more minutes needed to prepare your ice-cream, you'll be able to savor the treat you deserve. Flavors are always delicious: rose, coconut, brandied cherry, green tea, earl grey... And the crispy organic dark-chocolate at the bottom cones make the experience all the more special.
Où ? A tiny charming shop on College av. in Berkeley.
For more addresses, click here.
Photography for "Ici" by Tomoko Kanamitsu
Agenda
Movie releases, Festivals & DVDs

Theatre plays, Ballet, Opera

Jazz, Rock, Pop, Symphonic & Co

Museums and Art Galleries

If you have some spare time...