HOLIDAY SHOPPING SELECTION BY LOSTINSF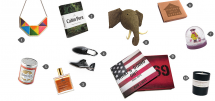 10 last minute ideas, to feel good or even better, to have fun, to be pretty, to shine, to feel gorgeous, to daydream, to get inspired...
No need of long sentences... Just a picture and an address. Happy Holidays to You all!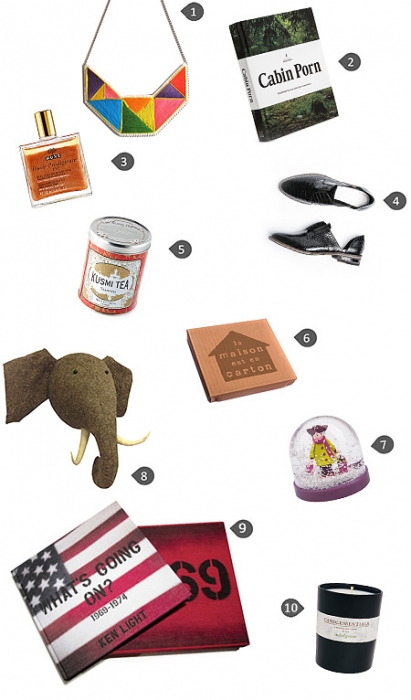 Necklace by Astrid - $65
Embroidery will become as fancy and trendy as knitting. Discover Astrid and her creations on Etsy.

Cabin Porn Book - $30
Some inpsiration for quietness
The Podolls - 3985 24th Street

Nuxe Huile Prodigieuse - $29
The ultimate body oil.
Walgreens Powell Street

Freda Salvador D'Orsay Offord shoes - $395
Perfect elegance and flawless style.
Freda Salvador - 2416 Fillmore Street (between Jackson and Washington)

Kusmi Tea - Tsaverna Holiday tea @ $35.5
The renowned Parisian brand is now available at Neiman Marcus. It's Tea Time!
Neiman Marcus - Union Square

La Maison est en Carton
An amazing collection of unique illustrations by contemporary Illustrators. Choose one, click… and they send it to you. There is one for each member of your family. This is a creative, unique, not expensive and artistic gift. What else?

Snow Globe with Mme Constance - $17.5
BonjourPetit.com is the official website in the US for Moulin Roty. And with Moulin Roty, your kids' childhood will never be the same.

Fiona Walker Elephant head - $160
We fell in love with it thanks to a picture see by random on Instagram.
What's Going On? 1969-1974 : photo Book
Seen on Vogue.com . And availbale on Amazon.

Candleessentials - $24
Made in California.
Montage photo: Sabrina Bot
Contributions: Sabrina Bot and Emmanuelle Serroy Leaf
Agenda
Movie releases, Festivals & DVDs

Theatre plays, Ballet, Opera

Jazz, Rock, Pop, Symphonic & Co

Museums and Art Galleries

If you have some spare time...