Here come the Fleet week and its Blue Angels!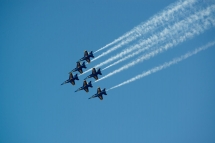 Each year, in October, San Francisco is hosting its Fleet Week. 2018 won't be any different and the event is definitely not to be missed... anyway, could you?
Fleet Week's purpose is to honor and thank the men and women of the United Forces for their contributions to the city of San Francisco and abroad.
Once the fleet arrives in the Bay, festivities don't stop. Parades of ships, free ships tours, air shows, fireworks, family picnics along Marina Green to look at the incredible Blue Angels' aerial parade...
The most exciting moment is probably the air show with the Blue Angels closing it. This year, it will take place 3 days in a row starting Friday. You can choose to go Premium or VIP (with seats from $55 to $275). Otherwise, it is a free admission event.
It will be the same program for the 3 days in a row with the exception of Friday when a ship parade has been scheduled between 11am and 12pm.
This year, consider also the Canine Demos at Duboce Park on Saturday morning. Kids should love Bark at the Park show gathering Public Safety dogs. K-9 Heroes at Duboce Park on October 6, 2018. Event details.
© Greta & Manu Schnetzler
A few pieces of advice to watch the Air shows:
Marina Green Park offers a perfect point of view overlooking the Bay. It's a great spot to share a pic-nic with some friends and family while waitiong for the Blue Angels. Every high spot from Presidio Heights to Coit Tower will be fine. The best is of course to know someone with a rooftop overlooking the Bay or even a sailing boat! Forget about Treasure Island. Way too complicated with all the ongoing construction activities.
Crissy Field should also be packed with a large crowd. On Sunday, you can also consider Off the Grid picnic at the Presidio. That could definitely help the organization of your day. Read more about it. The last few years, a gathering of vintage Volkswagen cars took place there too. Take a look at our pictures. No need to be a fan to enjoy ! Colorful and fancy.
You can also take the ferry to Angel Island from SF or Tiburon, and enjoy the air show from the other side of the Bay. Planes will literally fly above your heads!
Last but not least, do not forget to bring your camera*, and ear plugs for your young children.

© Greta & Manu Schnetzler
Fleet Week
October 1 -8, 2018
October 5-6-7, 2018
Air show 12pm-4pm
Blue Angels parade 3pm-4pm
Starting Thursday, you will hear the Blue Angels practice, a friendly but noisy reminder of the upcoming shows. Check the program.
* Do not hesitate to send us your best pictures at [email protected] . We will publish them with your consent and copyright on LostinSF photo gallery.
Top picture:
© Greta & Manu Schnetzler — at Fleet Week Air Show/Blue Angels Marina Green
Agenda
Movie releases, Festivals & DVDs

Theatre plays, Ballet, Opera

Jazz, Rock, Pop, Symphonic & Co

Museums and Art Galleries

If you have some spare time...