Heath Ceramics: poterie artisanale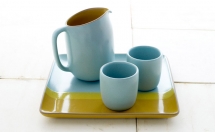 NEW ADDRESS
2900 18th street, SF
Temptation is now in the urban core of San Francisco with Heath Ceramics' newest retail store.
You have probably heard about Heath Ceramics or seen some vintage Heath potteries at your local flea market. You might even have had the experience, without actually knowing it, of Heath Ceramics' dinnerware while dining at some famous Bay Area restaurants such as The Slanted Door or Chez Panisse.
Created in San Francisco in 1948 and purchased by an inspired couple in 2003, Heath Ceramics is one of the few remaining mid-century American potteries still in existence today. Beautifully designed and glazed in amazing hues, from moonstone blue to darker tones like onyx or redwood, Heath various tableware lines are all simple and elegant, rustic and modern.
If your first impression is that prices are more on the luxury side, check their "second quality items" in Sausalito's store. These pieces sold at a discounted price don't meet their quality standards… but believe me, they will meet yours!
The original Sausalito factory where every piece is made, is a Bay Area landmark you can visit every Friday (11:15am), Saturday and Sunday (11:45am and 2:30pm). The guided tour is very interesting and during the week you can see crafts people working and even ask them some questions if they are not too busy.
You will find everything Heath from dinnerware to tiles at their new location on 18th street, plus a coffee cafe Blue Bottle Coffee.
Heath Ceramics Factory and Stores
400 Gate Five Road, Sausalito
2900 18th street, San Francisco
They also have a retail space in the Ferry Building
Credit: Heath Ceramics Iced tea set, photo by Jeffery Cross
Agenda
Movie releases, Festivals & DVDs

Theatre plays, Ballet, Opera

Jazz, Rock, Pop, Symphonic & Co

Museums and Art Galleries

If you have some spare time...