Golf courses
SF is not only a surfer's paradise, it's also a golfer's paradise. Golf players have the choice between five golf courses right in San Francisco, and many more in the Bay Area. There is no chance you won't find the perfect course for your budget and level. For more information about golf courses in the area, visit golfguide.org.
PUBLIC COURSES IN SAN FRANCISCO
If you play regularly and live in San Francisco, ask for a Golf Resident Card at City Hall room 140. You will be abble to make advanced reservation and get discounted green-fees in SF public golf courses. It takes 20 minutes and cost $90 for 2 years. For more information, click here > sfrec.com.
A beautiful 18 hole course with Monterey Cypress Pine trees lining the fairways. Practice and restaurant. You can also play for an affordable price on the 9 hole course called Fleming.
99 Harding Road, San Francisco - Lake Merced
Hilly 18 holes around the Legion of Honor. Fun and not expensive. Views of the Golden Gate Bridge are amazing. Note Number 16 has the best view ever. Hard not to get distracted:-) Note there is no practice there.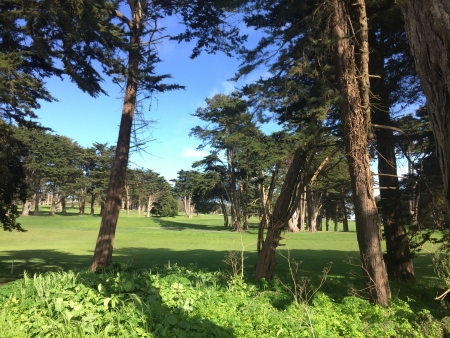 18 holes in the prime location of Presidio Park. Practice and restaurant. Good spot to practice.
300 Finley Road @ Arguello Gate
9 holes in the South of San Francisco. Rather affordable. Near Crocker Amazon.
2100 Sunnydale Ave, San Francisco
"Pitch and put" 9 holes par 27, in the Golden Gate Park (close to the Ocean), fun for beginners and kids. Tiny practice and bar-snack. Cool atmosphere. Also great for short game.
Located directly east of the Windmills in Golden Gate Park. From Fulton St – Enter at 47th Ave, course is on your left. From Great American Hwy, enter on John F Kennedy Dr. and make a left on 47th. Course is on your right
18 holes in Pacifica. Nice views of the Ocean.
2600 Francisco Blvd, Pacifica
PRIVATE GOLF COURSES
Private as in very private...
2300 Junipero Serra Boulevard
Members only.
Lakeside clubhouse Skyline bld. Offers other activities beyond golf.
GOLFS AROUND SAN FRANCISCO
Greenfee week days , approx. 60 to 70 dollars.
333 Biscayne Drive, San Rafael.
Greenfee week days, approx. 85 to 120 dollars.
9 StoneTree Lane, Novato.
Greenfee week days approx $60.
2555 Jameson Canyon Road, in Napa
Greenfee week days approx $70.
580 South Kelly road, in Napa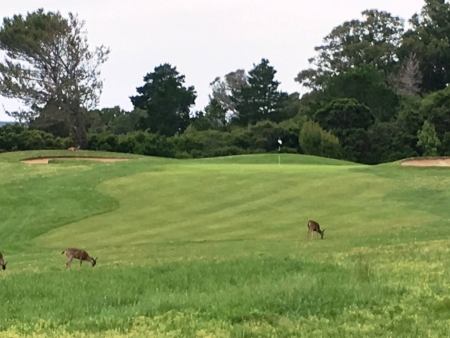 18 holes, some of them a bit noisy because they are along Highway 280. But good value for money and great park. Greenfee week days approx. 44 dollars.
6650 Golfcourse Drive, Burlingame.
2 beutiful 18 holes with amazing views of the ocean (Ocean Course), surrounding the Ritz Carlton d'Half Moon Bay. Book your teetime online. Greenfee week days : approximately $160.
2 Miramontes Point Road.
Monarch Bay, East Bay.
27 holes. Nice views of the Bay. Greenfee: approx $36 for the 18 holes course.
3800 Monarch Bay Drive, San Leandro.
Tilden Park Golf Course, East Bay
In the middle of tall trees. Magnificent environment and rather reasonnable prices.
10 Golf Course Drive, Berkeley
Lake Chabot Golf Course, East Bay
Near Oakland Zoo, in a splendid green park.
11450 Golf Links Road, Oakland
Agenda
Movie releases, Festivals & DVDs

Theatre plays, Ballet, Opera

Jazz, Rock, Pop, Symphonic & Co

Museums and Art Galleries

If you have some spare time...