Go green with Leon & George !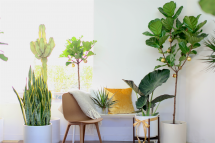 With Leon & George, your future will be greener, happier, healthier. Let's go green...
We recently met Nicolas who is the co-founder of Léon & George, a company that sells plants for trendy offices and homes.
You love all these plants on Instagram. They're big, healthy, fancy, totally part of the interior design, most of the time its center piece. So what prevents you from doing the same in your sweet home? You have no idea which one to choose, are pretty sure you are going to kill it in a week and before you find a Uber to bring your big Fig Tree home... you will have given up and opted for a bunch of tulips... different ambition.
There's a feeling you get when you walk into a room with a lot of plants that resembles the wave of calm you find in a forest. Humans thrive on contact with nature, and it's just as necessary in our living spaces. The reality is that plants have been linked to increased happiness and productivity as well as cleaner and healthier air. So why don't we have more plants in all the homes and offices we go to ?
For some it may be the perceived difficulty of caring for plants which holds them back. For others it's the inconvenience of having to go find those plants and transport them home.
Léon & George have a service that helps out on both fronts. On their website you can pick from easy-care classics like the Snake Plant, which barely needs any light or water. Or from the trendy and striking Fiddle Leaf Fig. Or from one of the many options in between which are available online, all delivered for free in San Francisco, and all with included simple care instructions.
The company is named after the pets of the owners: Léon, a soft and playful tabby cat, and George, a colorful and charismatic little parrot. Their small staff of plant lovers provides personalized service and will answer any questions you may have before or after your purchase. As an added benefit, the company also works with the National Forest Foundation to plant a tree in a US Forest for each plant they sell!
Lost in SF readers can get 10% off their entire order at leonandgeorge.com by using the promo code you will get by clicking > here. Promotion expired
Leon & George

Agenda
Movie releases, Festivals & DVDs

Theatre plays, Ballet, Opera

Jazz, Rock, Pop, Symphonic & Co

Museums and Art Galleries

If you have some spare time...