GALETTE 88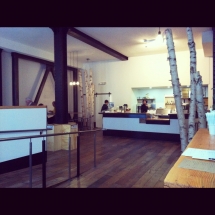 Financial District. Real buckwheat galettes with some cider... Such a delight!
Basically, we like... the people, the atmosphere, the place, the environmental friendly spirit, the fact that it is not too Breton or too frenchy, the pop-up dinners concept... and the galettes for sure!
The people... Céline Guillou and Erin Rooney (Slow Club & Serpentine) joined their forces as partners for this great adventure.
The atmosphere... they both "cooked" it up based on the principle that it should be "simply modern or modernly simple". The result is a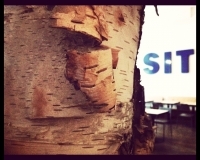 real success. You will love the letters on the wall that invite you to take a... SIT et you will probably think that the birch trunks would create such an effect in your own interior!
The place... because you have to be some kind of an insider to go over there (88 Hardie place... you don't go there by random) and we like the "insider" concept.
The environmental firendly spirit... we called it that way because barely everything (including the wood) is recycled. Good point!
Definitely not too much, not too Frenchy, not too Breton. Céline and Erin did not go overboard on the folkolore to offer a modern concept of crêpes restaurant. Well done!
Galette 88 is for lunch time, snack time, dinner time (Wednesday and Thursday)... even some pop-up dinners or movie screenings.
We almost neglected to talk about the menu! Buckwheat (organic, bien sûr) galettes et sweet crêpes. We tasted la Basique (emmental & caramelized onions) and it was a real good pick! The 10 galettes on the menu are served with green salad. As a dessert, sweet crêpes are a pure delight: no way to resist the "forbidden fruit" (apples plus salted caramel...) A glass of cider to accompany your lunch et a Four Barrel coffee to smoothly conclude it.
Indulge yourself with a break, from work, from shopping, a whatever break and share the good news with your firends, you can be sure that they will be thankful!
Galette 88
88 Hardie Place (@ Kearny between Sutter & Bush)
monday through friday from 11:00 a.m. to 2:30 p.m.
wednesday and thursday from 4:00 p.m. to 9:00 p.m.
Agenda
Movie releases, Festivals & DVDs

Theatre plays, Ballet, Opera

Jazz, Rock, Pop, Symphonic & Co

Museums and Art Galleries

If you have some spare time...