FRENCH PERSONAL TRAINER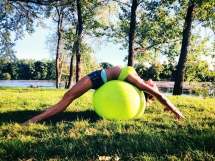 You feel like having a personal trainer is not reasonable? We met Alexia who will prove you wrong.

Alexia arrived quite recently in the Bay Area. She had an American dream and she uses all her passion and energy to make it come true. Alexia offers private sessions at (your) place, small group classes and recommend Pole walking as your new outdoor activity,
Nice perspective! We let Alexia introduce herself and her program to you.
I specialized in Female physiology, Pole Walking and Nutrition. I am a Fitness Personal Trainer since 2010 and I recently moved from France.
I provide a one-on-one coaching services including specific fitness exercices, mass composition analysis and nutrition tips at your home, your workplace, or outside.
I created my own Method: Smooth'Fit is my personal mix between Postural Stretching, Pilates, Specific Strength Exercices, and Fitness.
I developed this method to improve balance, flexibility, toning the perineum and greatly strengthen the body of any person regardless of their base fitness ability. I use several accessories which I bring with me to every lesson.
I provide a class in two private studios: Palo Alto and San Francisco. Group limited to 5 people, $20-$25 per class, and you simply have to register online. Group sessions with Alexia.
TO ENTER AND WIN 10 FITNESS SESSIONS WITH ALEXIA, CLICK HERE.
Also I organized group sessions to introduce Pole Walking. Pole Walking is a mix between hiking and cross country skiing. We walk quickly, make long strides, and use specific poles, that with the proper technique, give extra propulsion. You will love this sport and it's accessible to everyone!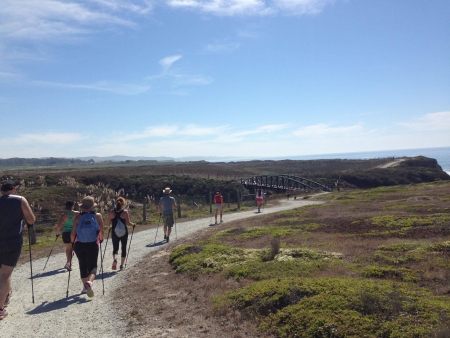 5 good reasons for choosing Pole Walking:
• His activity burns twice as many calories as hiking
• Uses 80% of the body's muscles
• Improves balance and posture
• No shock to your joints
• Develops cardio and endurance
Don't hesitate to contact me for more informations.
New year just started with its loads of good resolutions. No more excuses now!
FRENCH PERSONAL TRAINER
Check schedules & locations and register online : alexiacornu.com
Agenda
Movie releases, Festivals & DVDs

Theatre plays, Ballet, Opera

Jazz, Rock, Pop, Symphonic & Co

Museums and Art Galleries

If you have some spare time...