FRENCH ENGLISH, BILINGUAL SUMMER CAMPS IN SAN FRANCISCO AND THE BAY AREA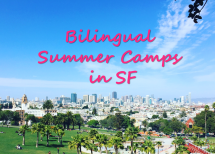 Bilingual French/English summer camps in San Francisco and the Bay Area are such a great opportunity for your kids. We made a selection out of the great array of choice for a summer in SF with a French touch.
It happens that bilinguism has a reputation to make people smarter! Read the NY Times article. That could be enough to convince you to enroll your child in a French/English camp, this summer.
At LostinSF, we are great supporters of bilinguism. The fact that the whole website is available in French and English confirms it, our purpose being to reach out to as many people as possible, new in town, French or not, but eager to discover San Francisco and enjoy their time here.
AT LEAST 3 GOOD REASONS
TO ENROLL YOUR CHILD
IN A BILINGUAL SUMMER CAMP

Votre enfant est Français ou francophone mais est scolarisé dans le système américain, Ça peut lui faire du bien de ne pas perdre la main (ou la langue en fait) pendant l'été. We left the paragraph in French on purpose. That makes sense, doesn't it?

Your child attends a blingual French/English school, and French is not his/her native language. Nothing better than some summer practice to stay in shape... in French shape!

You've got family visiting from France for a few weeks. It is a good solution to have the cousins from here and there spend time together in an environment that suits them all.
LES ECOLES
BILINGUES ET INTERNATIONALES
LYCEE FRANCAIS OF SAN FRANCISCO
The LFSF offers 3 distinct French summer language immersion camps:
Bon Voyage at the end / June 20 - July 1st
Paris Oulala / August 6 - 26
Euro Cup camp / August 15 - 26
Without mentioning the camp the College Apllication camp (August 1 - 12) aimed at future Senior students.
These camps are based on a wide array of activities and are tailor-made to match different age groups expectations and interests. The school also offers a shuttle service between its 2 convenient locations in Ashbury, San Francisco and Sausalito with both a morning and afternoon daycare option.
Consult here the whole program and conditions.
FAIS (French American International School)
FAIS offers a nice summer camps program, since pre-K to 9th grade with some sessions opened to High School students, July 11 to August 19. Science, arts, outdoor activities, sports are all well represented.
Check the whole FAIS summer camps program.
EB
EB (Ecole Bilingue de Berkeley) invites your kids to join their camps on their new site of West Berkeley, July 11 to August 12, from pre-K et 6th grade kids.
Check EB's summer camps program.
THE ALLIANCES FRANCAISES
The Alliance Française of San Francisco offers summer camps June 6 to August 26 for 4 to 12 years old kids. They will take place at the Alliance Française de San Francisco, on Bush Street. Each week will be based on a new theme : The Little Prince, The Ocean, Little red Riding Hood... to learn French while having fun.
Check the Alliance Francaise of San Francisco program.
The Alliance Française of Berkeley also prepared 2 camps July 5 to 15 for 8 to 12 years old kids, to start summer with a French environment. Tintin, Crepes, African dance and Performing Act are on the menu.
Check the Alliance Francaise of Berkeley program.
EFBA
EFBA offers summer camps in 5 different locations in the Bay Area including one in San Francisco at La Scuola International School on Fell. Other locations are schools in Santa Rosa, Oakland, Larkspur et Mountain View. Camps are for kids from K to 8th grade depending on locations. and based on very French themes like Méliès, Cyrano, les gendarmes de Saint Tropez...
THE SPECIALIZED CAMPS
DANSE & YOGA
by the new studio PETITS PAS
Petits Pas, the new yoga and dance studio, will offer summer camps in French and English, at its Monterey boulevard location, near Glen Park, for 3 1/2 to 9 years old kids, with yoga, dance, ballet and modern jazz, July 18 to August 21.

SURF & BEACH ACTIVITIES
Different style... surf in French with the Sea Surf and Fun team, that will welcome your children in Half Moon Bay in June, July and August. The program mixes surf and beach activities. To ask questions and inquire, contact Sea, Surf and Fun now.
LIKE A PLAYDATE AT HOME
French Playdate offers camps for 5 to 10 years old kids in Hayes Valley, June 6 to July 29. They are based on artistic projects about renowned cartoon French characters such as Le Petit Nicolas, Asterix, The Little Prince..., book readings, movie screenings...
Check French Playdate whole program.
FOR THE VERY YOUNG KIDS
AU P'TIT MONDE
Au p'tit monde offers summer camps in its Peninsula location (East Palo Alto), June 27 to August 12, for 2 to 6 years old kis.
Check summer program at Au p'tit monde.
PETITS CONFETTIS
Petits Confettis will welcome 2 to 6 years old kids, June 20 to July 29, in its Los Altos location.
Check summer program at Petits Confettis.
Agenda
Movie releases, Festivals & DVDs

Theatre plays, Ballet, Opera

Jazz, Rock, Pop, Symphonic & Co

Museums and Art Galleries

If you have some spare time...