FREE CONCERT WITH JANELLE MONAE IN SAN FRANCISCO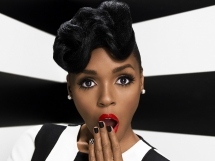 The great, the excellent, the brilliant, so very SF Stern Grove Festival has not even released its line up yet that it already created some kind of an effect with the announcement of Janelle Monáe being the special guest for its first concert of the season.
We already marked our calendar for June 19, 2016. The Big Picnic which is a tradition to start the Festival season will feature Janelle Monáe.
For those who still have to discover this festival, you should know that the Stern Grove Festival is a genuine landmark here, in San Francisco. There is no such thing as a summer in SF without the Sunday concerts at the Grove. And yes, the secret has not been kept very weel, so it is rather packed. But the crowd is nice and the atmosphere pretty surreal. Check your bucketlist!
Some of you probably dicovered Janelle Monáe with Fun and their hit song We are young a few years ago.
But she has definitely her own carreer, already released 2 albums, developed a personal art of R&B, soul and funk and has a perfect mastery of her style which made her a distinguished fashion icon.
And to respect its tradition to support local artists, the Stern Grove Festival invited the San Francisco based band, Midtown Social to perform the opening act. They already gave concerts in great local venues such as The Chapel, the Great American Music Hall and the Mezzanine. They depict their own music style as California Soul. Listen and judge by yourself.
Free concerts every sunday.
June 19 - August 21, 2016
Agenda
Movie releases, Festivals & DVDs

Theatre plays, Ballet, Opera

Jazz, Rock, Pop, Symphonic & Co

Museums and Art Galleries

If you have some spare time...