FREDERIC PATTO AND HIS PASSION FOR FRENCH THEATER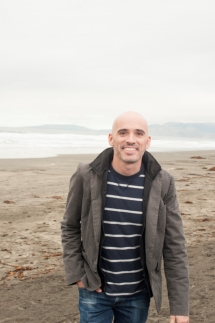 Frédéric Patto, teacher at the Lycée Français of San Francisco, has a passion for theater and ... he knows how to share it!
After some years of existence, there is now a strong and dynamic theatrical curriculum at the Lycée Français. Frédéric Patto also put all his efforts to bring French theater to SF.
We met him and he kindly answered our questions. So here is his story... in short. It all started from a passion, a stage, and great supports.
A stage!
Frédéric arrived from Agde (south of France) 7 yers ago to teach Sciences and Maths at the Lycée Français of San Francisco. At that time, the school was close to open a new campus (Junior High and High School) in the former Conservatory of Music building. Frédéric visited the place and discovered the great auditorium. There would be so many things to do thanks to it. A stage and a great accoustic! Dream place!
His passion for theater
Frédéric had already spent 20 years working, learning and performing in a theatrical company in Montpellier.
A Company
In San Francisco, he decides to start a new adventure and to teach theatrical arts. He will launch a workshop with some teachers working at the Lycée and at FAIS (French American International School). This was the starting point for the D-Boussole company that would thrive within the next few years.
A new curriculum at the Lycée
The Lycée Français has a great auditorium? What an opportunity for the students! Helped and supported by the School Headmatser, Frédéric Patto sets up theater classes for 10th, 11th and 12th grade students as part of their academics. It is such a success story. There were 7 students the first year. Now, there are 3 groups (one per grade) gathering 50 students. Jacques Ligonie already collabrated with Frédéric and Delphine Liénard (French teacher at the Lycée and part of the D-Boussole) will join the great crew next year.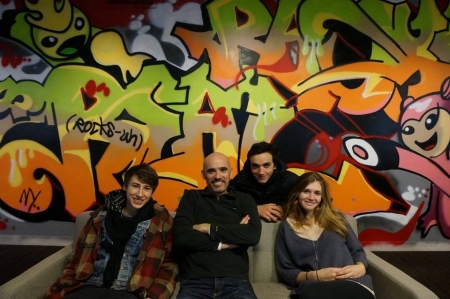 Frédéric Patto with the Grand prix du jury winners in NY. Félix Dechant, Arthur Le Meur et Chloé Rinaldi
At the Lycée, kids learn pretty early, as early as preschool and primary school where Gregory Galin teaches them impro and organizes shows on stage following the tradition implemented by teachers themselves offering amazing representations with their students working on the dialogs, the set up, the costumes... and the acting of course! He also offers an extra curricular class to 6th to 9th graders.
A Festival and a qualitative program
Frédéric invited companies from France to come and perform at the Lycée, organized shows with friends, and offered representtions with his own Company, la D-Boussole. Year after year, the TLF (Theater of the Lycée Français) has become the center stage for French-speaking shows in San Francisco.
As a result, a consequence or rather a great start, the 1st edition of the SF French Theater Festival will take place this year. From April 29 to May 22, 6 shows not to be missed! And because, it is even better when we can share... some of the shows will be presented with English subtitles.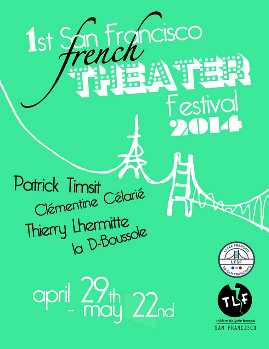 A new project
Frédéric can't help but thinking of new ideas to implement. So his new ambition is to organize a French theater Festival for students for the West Coast, following the example of the Premiere Scene hosted by the Lycée Français of New York, celebrating French language and culture. Horizon 2016!
Congratulations for all these great projects and achievements and thank you for bringing French theater to San Francisco!
Photo credit (top photo - Frédéric Patto's portrait): Jaymes Ramirez
Agenda
Movie releases, Festivals & DVDs

Theatre plays, Ballet, Opera

Jazz, Rock, Pop, Symphonic & Co

Museums and Art Galleries

If you have some spare time...