For the Foie Gras in California, it sounds like the die is cast.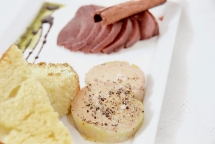 For the last 15 years, Foie Gras's fate has been at stake in California. With the Supreme Court's decision, it seems that the the story has come to an end.
Here is the Foie Gras story in California.
2004
The law regarding the Foie Gras in California was voted. It aims at legislating the production and the sale of Foie Gras. The method -force-feeding ducks and geese to enlarge their liver beyond normal size - is forbidden. Consequently, Foie Gras and any product resulting from this process cannot be sold.
It is not forbidden though to have Foie Gras in one's possession or to consume it as long as one get it through a gift or imported it from outside California.
2012
It took 8 years for the law to take effect. Actually, this transition was included in the official text and was decided to allow new techniques to be developped in order to produce Foie Gras without the force-feeding process.
From 2012 to 2015
Many lawsuits took place, initiated by producers an restaurants. They have always been denied.
January 2015
Against all odds, the latest lawsuit succeeded and the judge Stephen Wilson ''ruled in favor of a coalition of foie producers and restaurateurs, granting their motion for partial summary judgment and saying that California's foie gras ban, implemented in 2012, is trumped by the federal Poultry Products Inspections Act when it comes to regulating the sale and distribution of foie gras.''
Full text of the judgement on SF Eater.
That being said...
It is still illegal to produce Foie Gras in California.
Ferbruary 4, 2015
It was announced today that the current ruling would be appealed at a feferal level. We read the news on SF Eater. Here is their article for more details. In the meantime... restaurants can still serve Foie gras and Groceries sell it and San Franciscans buy it.
September 15, 2017
It happens that 3 judges considered reinstating California Foie gras. The information got released on Friday, September 15, 2017. You can read more about it in the article shared by the SF Chronicle. > Judges reinstate California foie gras ban.
At the moment, it looks like nothing will change since there is an appeal that will need to be processed and concluded.
7 janvier 2019
Now, it sounds like Foie Gras's fate has been ruled.
California Foie Gras ban goes into effect after Supreme Court rejects challenge ( > article from the LA Times)
Just noticed that decisions were repeatedly made right after the Holidays... Mere coincidence? Whatever we might think, it adds some irony to the whole process.
Alternative options, vegetarian ones, or vegan ones or Foie Gras resulting from a process where ducks and geese are not force-fed, should arouse interest and possibly meet some success. Anyway, it is worth gibing a try and tasting. Creativity in the ''research'' of alternative options could reveal new flavors and savors that gastronomy could in the end benefit from.
Agenda
Movie releases, Festivals & DVDs

Theatre plays, Ballet, Opera

Jazz, Rock, Pop, Symphonic & Co

Museums and Art Galleries

If you have some spare time...