Flower Piano: the summer event celebrates its 5th anniversary in the Golden Gate Park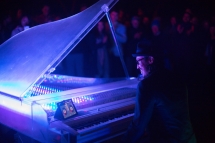 12 days, 12 pianos at the San Francisco Botanical Garden that becomes the city's own outdoor concert hall and everyone is invited to play and listen.
Visitors are encouraged to seek out one of the twelve pianos tucked among the many flower-filled gardens within SFBG's 55 acres and play what they like, from Bach to boogie-woogie. On select days, professional pianists will be scheduled to perform as well, and the public is welcome to watch the performances. Bach, Beethoven, Debussy, Ravel, Chopin... are on the line-up!
Flower Piano is a project by Mauro ffortissimo and Dean Mermell who together launched Sunset Piano in 2013 when ffortissimo covertly rolled an old grand piano onto the bluffs over Half Moon Bay. As word spread through social media, the crowds grew way beyond the occasional dog walker. Thousands came to hear the music before the county ordered it removed. Since then, Sunset Piano has expanded this impromptu musical and social experiment, temporarily placing pianos in a wide variety of unexpected natural and urban settings around the Bay Area every year, from the top of Montara Mountain to Market Street.
Filled with music, the Garden, a place of beauty and inspiration, will invite people to share their passion and talent.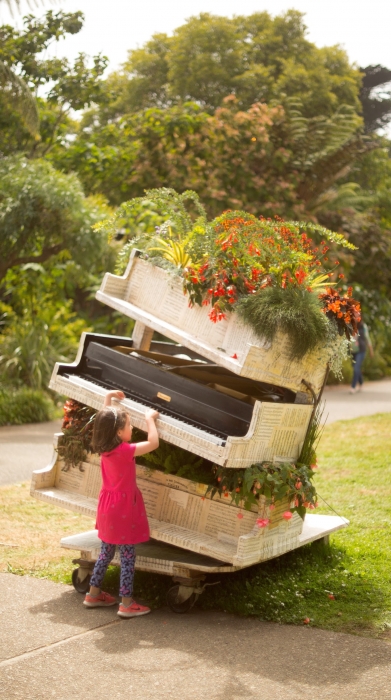 Share, share, share! Share the music!
For its 5th edition, the event has grown bigger and reinvented itself with new additions to its schedule, Flower Piano at Sunset, Flower Piano at Night, Flower Piano at daylight, yoga, sing-along, concerts, impros, food trucks, picnics... Piano yourself any time and any way.
FLOWER PIANO
@ SF Botanical Garden
Golden Gate Park
July 11 - 22, 2019
Play and listen is free with regular admission
(Free admission for SF residents)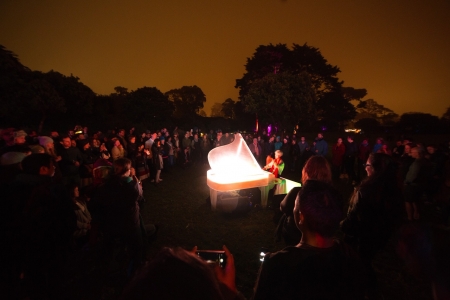 Agenda
Movie releases, Festivals & DVDs

Theatre plays, Ballet, Opera

Jazz, Rock, Pop, Symphonic & Co

Museums and Art Galleries

If you have some spare time...