FEIST WILL BE IN SAN FRANCISCO IN MAY FOR 2 CONCERTS IN A ROW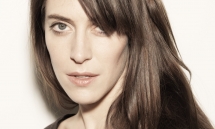 It has been 6 years since Feist had not released a new album. She comes back with ''Pleasure'' scheduled to be released on April 28, and with a North American tour including 2 concerts in San Francisco. Our pleasure!
[update] Actually, a 3rd concert has been added. Feist will perform at the Fillmore May 9, 10 and 11 mai 2017.
Even though, she has been performing, composing, singing... for about 20 years, it is rather recently we discovered Feist and appreciated her music. That was with her 2 latest albums, The Reminder of course, and Metals.
Listen to 1234 and watch it, and also My Moon, My Man. That's how we fell in love. Of course, the iPod Nano release campaign helped a lot...
Feist already has a long carreer behind her, with 20 years of singing, composing and performing. Her talent lead her to a lot of collaborations with Jane Birkin or Arthur H, for instance, in France. She is also member of the band Broken Social Scene, that already performed in SF like at the Hardly Strictly Bluegrass Festival a few years ago.,
In the movie Paris Je t'aime, she sings « La même histoire – We're all in the dance ». Her voice sounds different but so sweet when she sings in French.
Her elegance, pretty natural and modern, her style, (can't help but thinking of Keren Ann or also Charlotte Gainsbourg), her voice, her tunes where audacity and timidity coexist... herd to resist all of them.
Feist annouced Pleasure in March with a sweet humbleness and citing Leonard Cohen. Impeccable.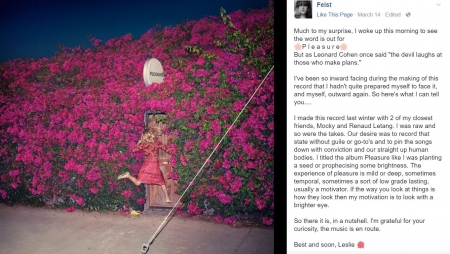 Feist will start a great tour right after Pleasure is being released with a first date at home, in Toronto, and then, Mexico, L.A., San Francisco in May and she will finish in New York and Chicago in June before performing at different Summer Festivals.
While you're taking your tickets, you can still listen to Pleasure (the single) and Century... That is going to be so Feist !
FEIST
@ the Fillmore
May 9 and 10, 2017
For more details about the concert and buy your tickets,
> click here for May 9, 2017
> click here for May 10, 2017
Agenda
Movie releases, Festivals & DVDs

Theatre plays, Ballet, Opera

Jazz, Rock, Pop, Symphonic & Co

Museums and Art Galleries

If you have some spare time...