Favorite French brands now available in the US. You are going to love them !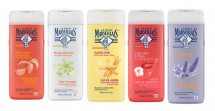 Le Petit Marseillais shower gels are now available in the US. You are going to love them as well as a bunch of other brands like NUXE, AVENE or VICHY to mention just a few.
A few weeks ago, Le Petit Marseillais shared the good news regarding its range of shower gels now available at Walgreens and Target. Initially only available online, we found out that some local Walgreens had already put them on their shelves, like the store on Mission or the one on Gough. Simply check online for the nearest store.
Regarding Target, it looks like the few items are only available online.
You have to know that Le Petit Marseillais shower gels are like a French landmark. Just checking the shower gel shelves in a supermarket in France is like a delight we miss so much. You will love the sweet and delicate fragrances, especially Orange blossom or Vanilla milk.
Speaking of French brands... try Nuxe - and its Huile Prodigieuse - at Walgreens on Powell Street for example. Also try AVENE, but also LA ROCHE POSAY, VICHY, LIERAC...
And after a quick visit at PHARMACA, wefound out that they were carrying KLORANE! Another French reference.
We wish a great sucecss to LE PETIT MARSEILLAIS and we wish you to adopt the shower French style. So ironic when one thinks of French people reputation about that:-)
Agenda
Movie releases, Festivals & DVDs

Theatre plays, Ballet, Opera

Jazz, Rock, Pop, Symphonic & Co

Museums and Art Galleries

If you have some spare time...