FACES PLACES, THE FRENCH MOVIE BY JR AND AGNES VARDA IN SAN FRANCISCO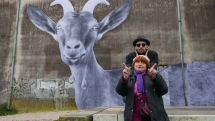 Faces Places, the film/documentary by and with JR and Agnès Varda, returns to San Franciso. The Oscars effect!
Faces Places returns to San Francisco, The documentary has been selected to compete at the upcoming Oscars ceremony. It happens that the French artist JR is in town, roaming around with his huge truck for his brand new mural project.
So Faces Places is announced to return to the New Mission Theater starting February 2.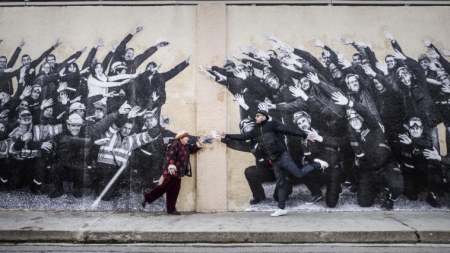 > Showtimes at the New Mission Theater
The pitch, briefly, shared by the Mill Valley Film Festival...
Film auteur Agnès Varda and street photographer JR are creators of images from different generations. Varda, the revered female filmmaker of the French New Wave, has long been associated with the art film and inner circles of film lore, including Jacques Demy, Alain Resnais, Jean-Luc Godard, Anna Karina, and Chris Marker. JR views the street as his canvas and adorns walls and buildings with murals of his works. Their mutual commitment to human stories creates a path for collaboration and an opportunity to visit the French countryside. These singular artists traveling together makes for an extraordinary journey. This is a brilliant film from one of the most iconic and visionary talents in cinema, whose openness in her conversations with another original—JR—brings us an extraordinarily layered portrait: of two artists, of two generations, of the people they encounter, of France—and the French. Winner of L'Oeil d'Or at the Cannes Film Festival 2017 for best documentary across all official selections.
What really charmed us among anything else in the movie is the sweet and lovely bond between both French artists. The film is actually like a moving portrayal of Agnès Varda, as if JR were interviewing her villages after villages, places after places, encounters after encounters.
In the end, what really remains are her glimmering charm, her sensitivity, her sweet kindness, her wisedom about life.
She is sharing with JR her memories, experiences, feelings with humor, honesty and sincerity. She deeply moves us and impresses us by her intact eccentricity and her constant artistic quest.
We understand why JR wanted to get on the road with her and vice versa. They inspire each other, respect each other, and the result of their common aspiration is deeply moving and meaningful.
To us, the climax of their adventures is reached with the installation of the gigantic picture on the fallen bunker at the Sainte Marguerite beach in Normandy. It will last no longer than the tide, but this ephemeral effect makes it even more powerful. Agnès Varda's obvious emotion, the beauty and elegance of JR's work of art, the sublime photos in the wind... they all contribute to make that specific moment memorable and unforgettable. They shared a genuine moment of happiness and fulfillment.
The trailer...
VISAGES, VILLAGES / FACES, PLACES
By and with JR and Agnès Varda
Opening October 27, 2017 in San Francisco, San Rafael and Berkeley.
In San Francisco at Landmark's Embarcadero Center Cinema
In San Rafael at the Christopher B. Smith Rafael Film Center
In Berkeley at the Rialto Cinemas Elmwood Theater
+
Select East Bay Engagement at BAMPFA
Friday, December 8 at 7:00PM
Wednesday, December 13 at7:00PM
Sunday, December 17 at 4:00PM
Thursday, December 28 at 4:30PM
To buy your tickets, click here > bampfa.org
Check all the other release dates for Faces, Places throughout the US > here.
Agenda
Movie releases, Festivals & DVDs

Theatre plays, Ballet, Opera

Jazz, Rock, Pop, Symphonic & Co

Museums and Art Galleries

If you have some spare time...