Earthquake at the Academy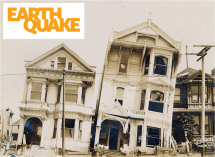 Currently at the Academy
The Earth shakes every day at the California Academy of Sciences. Its new exhibition "Earthquake" is taking visitors on a kinetic journey toward understanding earthquakes and seismic phenomena.
Among other large-scale installations, the exhibit features an earthquake simulator resembling an old Victorian home. The experience is both entertaining and impressive. Following a brief pre-show, visitors enter a fake dining room of an old Victorian home in San Francisco. Inside, simulated views of the downtown skyline and sounds of the World Series baseball game transport you back to 5:04 pm on October 17, 1989 - the date and time of the infamous Loma Prieta earthquake. A sudden tremor, lasting 15 seconds, gives you a sense of what this ground-jolting event felt like.
But the experience doesn't end there. For a second simulation, you travel farther back in time, to 5:12 am on April 18, 1906, the date of the most devastating earthquake in San Francisco's history. Frightning when you know that in reality, the tremor was stronger and lasted much longer than the simulation.
When you exit the simulator, an interactive space is designed to teach preparedness. It's very well done and playful.
In another section of the exhibit, visitors can see very cute live baby ostriches born and raised for their first 6 weeks at the Academy. Yes, there are surprising connections between earthquakes and ostriches. You'll see!
The Academy's flock of baby ostriches will be on view until December 9, 2012.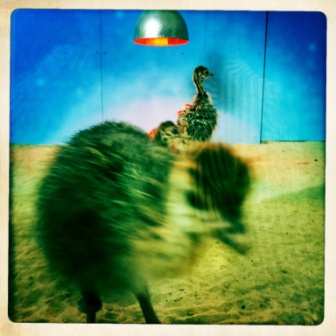 Concurrently, a new planetarium show launches audiences on a breathtaking tour through space and time - flying over the San Andreas fault before diving into the planet's interior, traveling back in time to witness both the 1906 San Francisco earthquake and the break-up of Pangaea 200 million years ago, and much more.
Prepared to be moved!
Earthquake
California Academy of Sciences
55 Music Concourse Drive, Golden Gate Park
Monday- Saturday, 9 :30am - 5pm
Sunday, 11am - 5pm
Admission adult $29.95, children 4-11 $19.95, youth 12-17 $24.95
Photo of slanted homes taken after the 1906 earthquake in San Francisco : National Archives.
Agenda
Movie releases, Festivals & DVDs

Theatre plays, Ballet, Opera

Jazz, Rock, Pop, Symphonic & Co

Museums and Art Galleries

If you have some spare time...