DRINKENTREPRENEURS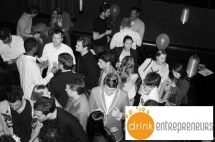 First Thursday of each month.
They're the French version of the apéroentrepreneurs that already take place in approximately 30 cities in France.
The concept has been reshaped to get closer to the SF culture and asssert itself among a vivid competition of networking happenings. The Drinkentrepreneurs present themselves rather as Social events. The purpose is to have fun, to enjoy a cool evening and possibly to meet friends and in the end, it might be a solid start for business opportunities.
For the last three months, around 300 people attended each time.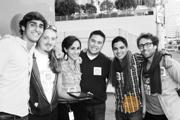 Drinkentrepreneurs can't deny its French twist: simply because it got inspired by the French ApéroEntrepreneurs and also because French people are part of the organizing team, like Edouard, we recently met. But the idea is not at all to make it a French meet up.
The event admission is free and then, you pay for your drinks.
So far, the Drinkentrepreneurs took place @ 111 Minna Gallery, @ Harlot and also @Wix Lounge.
The Drinkentrepreneurs events are organized on the first Thursday of every month. The next meet-ups are scheduled for February 7, March 7, April 4.
If you feel like an entrepreneur and you think you're kind of cool... Drinkentrepreneurs are for you!

Follow the Drinkentrepreneurs on Facebook to get the latest news.
Talking about recent news... the Drinkentrepreneurs had a meet up on June 26 in Palo Alto @ Rudy's. It was the first edition. There will be other ones. Stay tuned!
Agenda
Movie releases, Festivals & DVDs

Theatre plays, Ballet, Opera

Jazz, Rock, Pop, Symphonic & Co

Museums and Art Galleries

If you have some spare time...