Discover Magritte and its Fifth Season at SFMOMA
Magritte, The Fifth season is at SFMOMA until October 28, 2018.
As the Indian summer seems to settle down in San Francisco, it made us want to invite you to discover Magritte at SFMOMA if you have not already done so. The weather reference stops there.
That said, if you are new to SF, you might find some similarities between Magritte's skies and SF skies (you will understand when you will see them).
Until October 28, 2018
The exhibition itself: centered on the last part of his career -from 1945 to 1967 when he died, the exhibition includes no less than 70 works and you will face a different Magritte from the one we all think we know!
Articulated around the major themes of the artist (Hypertrophy, Bowler Men, The Dominion of the Light...), we also discover works that draw towards Impressionism and sometimes even comics.
Our impressions: amazing! This exhibition would reconcile the most skeptical visitor with Magritte! The staging is simple and effective, the diversity of works exhibited is impressive and the cartels are particularly intelligent. It will allow you to better understand the universe of Magritte. A bias for the painting called Pandora's Box that Magritte commented saying "the presence of the rose next to the stroller signifies that wherever man's destiny leads him, he is always protected by an element of beauty. ''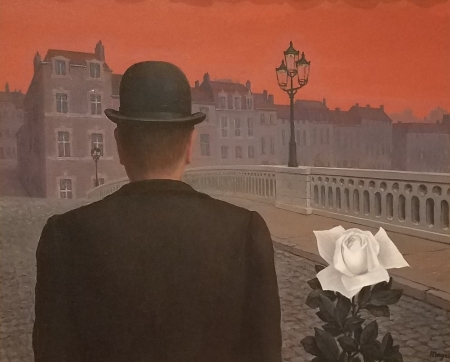 We also liked in ''world premiere'', The Enchanted Domain, a series of 5 of the 8 paintings that served as a model for giant murals. The murals can be seen at the casino Knokke Zoute in Belgium. An immersive experience before the hour, which includes many themes that are present throughout the exhibition.
Take the time to wander in the last room (the one that looks directly at the temporary shop), stop on the lines that are drawn on the floor looking ahead, wait a few seconds ... and the magic will operate. Guaranteed success if you are with children but adults will enjoy it too.
Contributor : Anne Marie Bourcier
Currently
@ the SFMOMA
René Magritte
The Fifth Season
May 19 - October 28, 2018
Photo by Sabrina Bot
Agenda
Movie releases, Festivals & DVDs

Theatre plays, Ballet, Opera

Jazz, Rock, Pop, Symphonic & Co

Museums and Art Galleries

If you have some spare time...