David Hockney A bigger exhibition
David Hockney is the most influential and best known British artist of his generation.
The major exhibition A Bigger Exhibition at the de Young, the largest in the history of the museum, presents Hockney's most recent work from the last decade.

The exhibition shows more than 300 works of art and covers one of the most prolific periods of the artist's career. It includes many portraits, still lifes and landscapes, among them some of his grandest works both in terms of size and concept.
Hockney is an outstanding and unique artist. At 76, he still surprises us and uses a wide variety of tools and media, ranging from simple pencils drawings on paper to drawings on the iPad and digital cameras.
We were amazed by his video "Cubist movies", made using 18 separate digital cameras, mounted on a grid and recording the action simultaneously. It displays multiple perspectives in one work of art!

The artist's portraits depicting friends, colleagues and family members, are more intimate. The landscapes, some of the English countryside others of Yosemite capture the beauty of nature with dazzling colors. The Arrival of Spring 2013, finished in May this year, consists of 25 charcoal drawings. It is exhibited for the first time.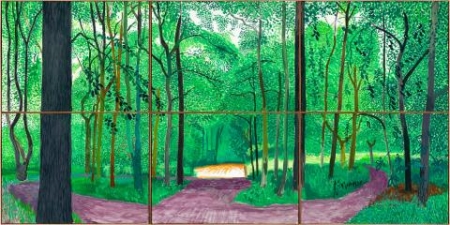 Here is a review sent by one of our French readers. Unfortunately it is in French but it won't make sens to translate it!
"Enorme!! De surprises en surprises, d'éblouissements en éblouissements , de gigantisme en gigantisme, de salles en salles... merci Monsieur Hockney de savoir si bien regarder les arbres et les routes et les fleurs et de rendre vraies leurs fausses couleurs; et merci de faire ces portraits d'amis dans des poses si fraiches et réalistes et merci de dupliquer et dupliquer ces paysages, les mêmes, et si différents selon les saisons ou simplement par leurs axes de vue. Il n'y a pas de mots ou trop de mots pour les couleurs et la lumière... toujours la lumière. Je regarderai les arbres surement autrement, c'est le rêve éveillé que j'ai fait en regardant toutes ces œuvres.
En résumé, c'est exceptionnel en couleur, David Hockney utilise aussi bien les logiciels informatiques que ses pinceaux, il a un œil exceptionnel sur la beauté de la nature et des personnes. Allez-y !"
David Hockney : A Bigger Exhibition
De Young Museum
October 26 – January 20
More information on the exhibition
Photos :
David Hockney, Bigger Trees Nearer Warter, Winter 2008. Oil on nine canvases (36 x 48 in. each) 108 x 144 in. overall. © 2013 David Hockney. Photo: Richard Schmidt
David Hockney, Yosemite II, October 5th 2011. iPad Drawing printed on six sheets of paper (71 3/4 x 35 3/4 in. each), mounted on six sheets of Dibond, 143 1/2 x 107 1/4 in. overall. © 2013 David Hockney
"The jugglers, June 24th 2012" still from 18 Camera Digital Video presented on 18 screens © David Hockney, Photo: © David Hockney.
David Hockney, Woldgate Woods, 26, 27 & 30 July 2006. Oil on 6 Canvases (36 X 48 inches each) 72 x 144 inches overall. © 2013 David Hockney. Photo: Richard Schmidt
Agenda
Movie releases, Festivals & DVDs

Theatre plays, Ballet, Opera

Jazz, Rock, Pop, Symphonic & Co

Museums and Art Galleries

If you have some spare time...