Dancing in San Francisco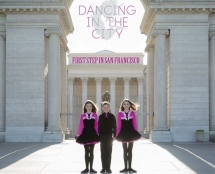 Maud Daujean, aka Miss Magic Lantern on Instagram, invites you to join her dance-discovery of San Francisco.
To make it simple, we let her tell you the story...
Like so many before me, I fell in love with San Francisco. I love her hills, her history, and her unique way to welcome us - even with her fog. Living here for the past 5 years, I wanted to express my point of view and share my lens of the city by highlighting my favorites places, touristic locales, historic landmarks, and hidden gems.
Dancing in the City is my invitation for you to discover (or rediscover) San Francisco. Those behind the scenes videos has been taken during the last 6 months.
Everything photos started with an idea and the final shot sometimes are way different than the one we thought originally. I'm so happy to share with you my work, hope you'll enjoy it.
Dancing in the City
@ Calparrio Travel Agency
323 Geary Street #201 - San Francisco
Thursday May, 24, 2018
Agenda
Movie releases, Festivals & DVDs

Theatre plays, Ballet, Opera

Jazz, Rock, Pop, Symphonic & Co

Museums and Art Galleries

If you have some spare time...