Crissy Field treasures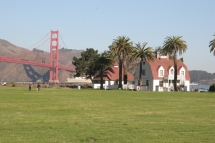 Once you know it, you will always get back to it ! Perfect for children and adults, full of treasures and discoveries, it is with a systematically renewed pleasure you go there.
On sunny days, East Beach welcomes kitesurfers and windsurfers who offer an incredible show of speed and spins, dodging sailboats waltz and heavy liners and cargo vessels that seem to glide lazily over the water, completing the whole picture.
On the beach, you see children play happily as they walk in the '' so called'' little river.
You want to go further? So run, slide, ride, bike or simply walk toward the Golden Gate Bridge along the beach.
The big and large lawns are just perfect for soccer games, baseball practices, to try your new kite, run and fly after your frisbee…

Then you reach the picnic tables and barbecue areas. The location is great and super convenient to organize lunches with a lot of friends right by the water.
A little further down, you will reach the dock from where you can take pictures with the great GGB in the background. You can also try to spot some seals or even dolphins if you're lucky.
If you anticipated your day, then you will have first gone on Clement street to buy some chicken and landing nets. Then ''fish yourself some crabs''! Yet another memorable photo and a successful dinner (for those who know how to prepare and cook crabs…)
Eventually you reach Fort Point at the bottom of the Golden Gate Bridge. The view is basically striking. Before leaving, you should put your hand on the Hopper's hands (Your dog can do the same, but no ''cat's pawprints''. A reason to complain?) For the record, Hopper is an ironworker of the bridge, part of a voluntary team that helps the ones who would attempt to jump... In another word: a hero of San Francisco.
Craving for a little coffee, a light snack or just needing to warm up on windy days? The Warming Hut Cafe welcomes you. And just in front of it ... they sell hot dogs almost as good as the ones from New York!
And then, in the meanwhile, you could have gone to the House of Air (Indoor Trampoline Park) or to Planet Granite (Climbing, Yoga and Fitness). Located in old warehouses on Old Mason Street, they offer the opportunity to learn and practice climbing and jumping on the trampoline in a beautiful setting.


At the end of the day, everyone feels exhausted, but happy.
Hard to wait for another weekend at Crissy Field! Because ... there is still The Walt Disney Family Museum in the Presidio, a bowling a little further up (the Presidio Bowling Center), you could grab your bike to cross the bridge, your little ones could have swimming lessons at the Little Baleen, there are kites competitions, and the Blue Angels in September ...
Agenda
Movie releases, Festivals & DVDs

Theatre plays, Ballet, Opera

Jazz, Rock, Pop, Symphonic & Co

Museums and Art Galleries

If you have some spare time...