Color Me Happy by Chloe Fleury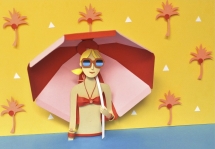 At La Boutique, l'Art et la Mode, it's all about Fashion and ...Art. After numerous artistic collaborations with Chloé Fleury, a young French "paper artist" (as she describes herself), La Boutique mounted last May a solo exhibition of her work.
In Color Me Happy, the artist executed her creative vision on a large-scale with a complete transformation of the gallery space. Working primarily with paper and glue, Chloe showed a diverse assembly of three dimensional objects including her signature bunnies and urban fashionistas, simultaneously introducing fresh and whimsical elements of her recent body of work for the very first time.
As she was finalizing every last details of the exhibition, we met Chloe for a coffee at Four Barrel, on Valencia. She told us about her work as an artist and designer, her multiple sources of inspiration, from fashion to photography, architecture, colors, prints and … San Francisco where she has been living for 3 years ; her love for paper and boxes since she was a child, the way she uses Stop Motion (the animation technique of Tim Burton's The corpse Bride, Wallace and Gromit or Fantastic Mr Fox) to give life to her "petites bonnes femmes" as she likes to call them.
She also told us about her favorite spots in SF. She loves music and goes very often to The Independent, the Mezzanine, the Fillmore, Hotel Utah, Rickshaw Stop, and makes the trip to Coachella every year. If Valencia street is her number 1 destination for food : Tartine, Locanda, Lolo ("where the food is excellent, and the decor ultra-creative"), she also loves Bar Jules in Hayes Valley and Outerlands in the Sunset "for its natural decor and delicious week-end brunch... - and General Store, a deco and accessories store next to it". For fashion ? She loves the French designers from La Boutique, Mira Mira and Voyager in the Mission, Haight street for the cute dresses she finds there, Zara, H&M …
Color Me Happy – the world of Chloé Fleury
Agenda
Movie releases, Festivals & DVDs

Theatre plays, Ballet, Opera

Jazz, Rock, Pop, Symphonic & Co

Museums and Art Galleries

If you have some spare time...