CHRISTMAS BUCHE...
The ultimate French dessert tradition for Christmas is the "Buche de Noel", translated as Yule log. Here is a short selection of bakeries where you will find some delicious ones!
Place your orders in advance as many bakeries are closed on Christmas eve!
In San Francisco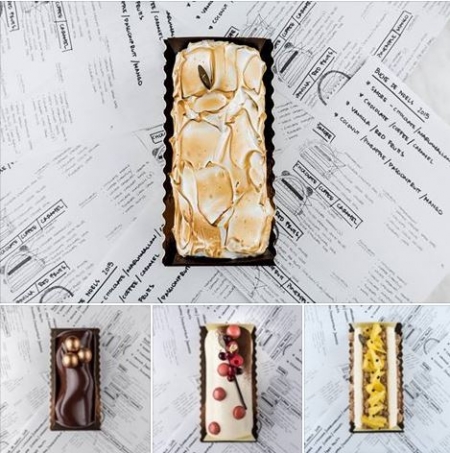 b. patisserie
The place is renowned for its quality and sophistication.
4 recipes: Chocolate Coffee Caramel, Coconut / Passion Fruit / Pineapple / Mango, Smore and Vanilla & Red fruits.
You can trust b.patisserie. We don't anybody has ever been disappointed by one of their creation.
b. patisserie
Orders can be placed until December 18.
Tartine, Mission district, SF
Genoise filled with espresso buttercream, meringue mushrooms, pistachio moss and Valrhona chocolate glaze.
Tartine
Serving 8 or 16
Arizmendi
One unique recipe for one of this SF Landmark on 9th avenue in the Inner Sunset. Each store has its own menu.
All products may be pre-ordered au 415 566 3117.
Bûche disponible : December 11,12,13,18,19,20,22-24)Le Holiday menu by Arizmendi in the Inner Sunset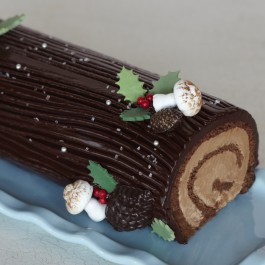 Miette
In SF, but also Marin and East Bay.
One recipe, traditional one, chocolate one in 2 sizes. Available until December 24. Please place orders 2 days in advance. Pick-up in stores: Larkspur, Ferry Building, Hayes Valley and Jack London Square in Oakland.
Miette
2-4 persons or 10-12
Thorough Bread & Pastry, Castro district, SF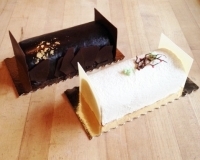 You will have the choice between a chocolate whiskey hazelnut mousse flavor buche and a white chocolate raspberry mousse flavor one. You can order until December 20. $40 each.
Thorough Bread & Pastry
248 Church Street (near Market Street)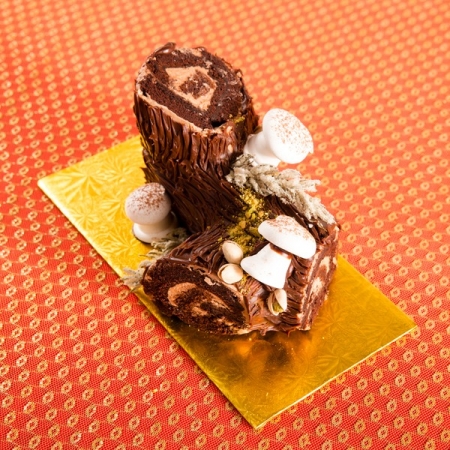 Bi-Rite
TCHO chocolate bûche de Noël... Should be a delight. And if we understood properly, you can eben have it delivered to your place. Very convenient, indeed! And very local!
Bi-Rite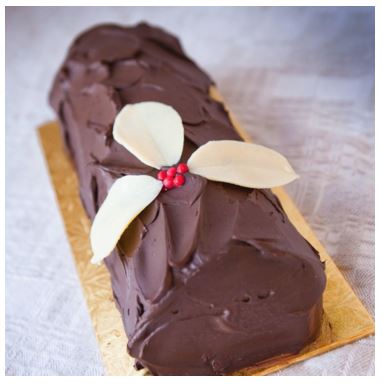 Sweet Things
A very chocolatey recipe offered in 2 sizes. And we found out Sweet Things offered Mariage Frères tea. Bright idea!
Sweet Things
2 addresses, 1 in Marin (Tiburon), 1 in San Francisco (Cal-Mart - Laurel Village)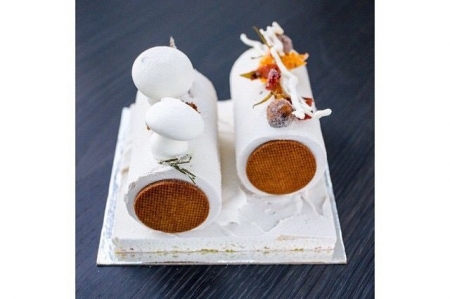 Craftsman and Wolves
The whole crew at Craftsman and Wolves is pretty busy right now. The SF brand opened a new location on Pacific Avenue.
We went to Valencia location and inquired about the Christmas Yule. It should be the same recipe as last year, which was Coffee, Hazelnut, Yogurt and Caramel, serving 6 to 8 persons, Should be $50 and available starting December 15. And yes, you'd rather call and pre-order.
Craftsman and Wolves
746 Valencia Street
1643 Pacific Avenue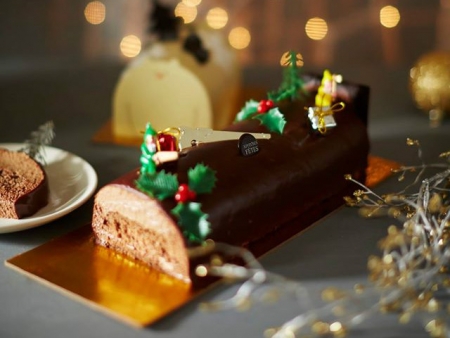 La Boulangerie de San Francisco
Starting Thursday, December 17, the Boulangeries de San Francisco will offer their Christmas yules. No pre-order. First come, first served. But you can call in advance though and check with the nearest La Boulangerie. There should be 2 recipes as the ones La Boulange used to offer, which were Chocolate ganache and Vanilia/Raspberry.
La Boulangerie de San Francisco
Pine / Fillmore / Union / Cole / 24th Street / Hayes
In Marin and beyond...
In Marin, a friend recommends 2 addresses with Holidays recipes that look so good and gourmet!
Rustic Bakery, Marin
No bûche apparently, but their Meyer Lemon Tarte with Blackberry Coulis looks fantastic!
Rustic Bakery
Novato & Larkspur
Emporio Rulli
A reference in the Bay. Original location is in Larkspur. A pretty wide selection of Holidays recipes. Freschezza, Primavera, Sacripantina... They offer a buche too. Call it Tronco di Naatale!
Emporio Rulli
464 Magnolia avenue, Larkspur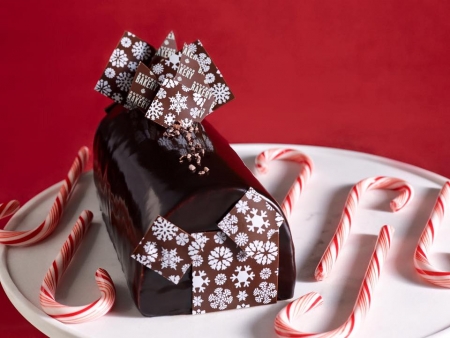 Bouchon Bakery, Napa
Bouchon Bakery offers one chocolate recipe, large size and tiny one. Share it or have your own one, it's up to you.
Bouchon Bakery
6528 Washington Street, Yountville
East Bay...
La Farine, East Bay
Chocolate Mousse rolled in Genoise cake with a Frangelico soak. Frosted with Chocolate Buttercream & decorated with fresh evergreens & Marzipane Mushrooms. Yum...
La Farine - East Bay
(Rockridge, Dimond, Piedmont)
More Christmas desserts on lafarine.com
Serving 15
Masse's Pastries, Berkeley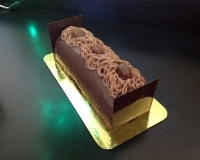 With 4 receipes, you will find what you are looking for: black forest, opera, passion fruit and winter berry. Be prepared for the taste ecstasy!! We tried them in the past and it was a pure delight with, on top of it, a nice and warm welcoming service in the bakery.
Masse's Pastries
1469 Shattuck Ave, Berkeley
La Bedaine offers not only Buches de Noel in 3 flavors: gianduja (chocolate-hazelnut), and dark chocolate, but also four typical French desserts to die for : tarte Tatin, Millefeuille, Paris-Brest, Saint Honore!
La Bedaine
1585 Solano Av, Berkeley
Buches serving 6,
Order by Dec 20.
And in the Peninsula...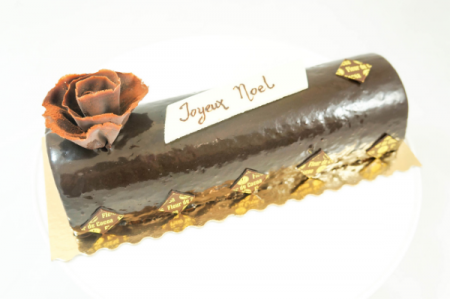 Fleur de Cocoa
4 recipes, 3 with chocolate and one with Raspberry jam.
You can pre-order starting December 10.
Fleur de Cocoa
39 N Santa Cruz Ave, Los Gatos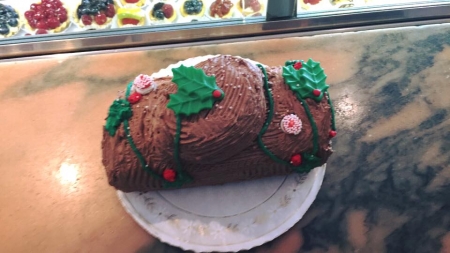 Douce France
In Palo Alto, Douce France offers a choice of 3 different sizes (6,8 or 10 persons), 3 fillings (chocolat, vanilla or orange) and 3 frostings (chocolate, vanilla or mocha). Custom made buche!
Douce France
855 El Camino Real
Town & Country Village - Palo Alto
And take a look at our useful addresses for other Bakeries and Pastry shops in SF and the Bay.
Agenda
Movie releases, Festivals & DVDs

Theatre plays, Ballet, Opera

Jazz, Rock, Pop, Symphonic & Co

Museums and Art Galleries

If you have some spare time...