Charlotte Gainsbourg forever and in San Francisco for one concert!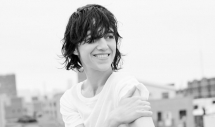 Usually, when an artist performs at Coachella, he or she does so too in San Francisco. Charlotte Gainsbourg is playing by the rules. We were just waiting for the confirmation of her concert's date and venue. It's done.
Charlotte Gainsbourg released her latest and last album, Rest, in 2017. She always works with ultra talented artists. Formerly, she had collaborated with AIR, Jarvis Cocker (also known for having composed for Feist and Marianne Faithfull, and known for his own personal work of course), and Beck. For Rest, Paul McCartney composed Songbird in a cage, Guy-Manuel de Homem-Christo (one of the 2 Daft Punks) did compose and co-write the single Rest, and SebastiAn (DJ and electro music producer) produced the album.
In San Francisco... Charlotte Gainsbourg was here in SF 9 years ago when the Icelandic volcan (that you can't name without checking many times on Wikipedia) forced people to extend their stay in SF (bright side of the story...) So... we had invited a friend, stuck for a few more days) to come with us to the PAlace of Fine Arts to see Charlotte.
We knew she was one of the French artists invited to Coachella. We just waited for her concert to be confirmed and announced. She will perform at the Regency Ballroom on April 15, 2019.
Her sweet elegant aura, her shy smile, and her powerful presence on stage will make this moment certainly memorable and unique.
Listen to Dans Vos Airs..., because... it isour favorite one, and Rest... because the video is overwhlemingly touching.
Charlotte Gainsbourg
@ the Regency Ballroom
Monday, April 15, 2019
To buy your tickets >> click here
Tickets on sale starting Feb 1st, 2019.
Agenda
Movie releases, Festivals & DVDs

Theatre plays, Ballet, Opera

Jazz, Rock, Pop, Symphonic & Co

Museums and Art Galleries

If you have some spare time...