CESAR, THE MARSEILLE TRILOGY PART 3, BY MARCEL PAGNOL AT FORT MASON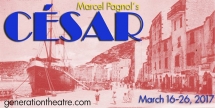 Generation Theatre presents César at the Southside Theater at Fort Mason from March 16 to 26, 2017.
Twenty years have passed. César lives alone in the Bar de la Marine. After five years at sea, Marius has returned, but he has settled in Toulon, some sixty miles away, and has no contact with his father. Fanny's child, Césariot, lives in Paris and is finishing his studies in France's most prestigious academy, École Polytechnique. Panisse, Escartefigue and Mr. Brun have aged.
The saga of Marius and Fanny ends with César. It is the third part in Pagnol's Marseille Trilogy. By 1935, Pagnol had become more interested in screen writing than in stage writing. He decided to write César directly as a screenplay. He said in an interview that, having lost his inspiration half way through the story, he was prompted to finish it by an old lady, "a charming ninety-year old. She was the sister of the owner of an antiques store on the Old Port who used to provide our film crew with the necessary props." She told Pagnol she wished to know how it all ended before dying, so he told her.
"All French kids and all true Francophiles have a soft spot in their heart for Pagnol's characters," says Generation Theatre's Artistic Director, David Valayre, who directs "César" and translated the screenplay.
David Valayre has a passion for Pagnol. He already directed MArius and then Fanny with Generation Theatre since 2013. You may have met him at the Alliance Française de Berkeley where he recently shared his views about Pagnol and the universality of his characters.
And here is a short trailer...
César, de Marcel Pagnol
The South Side Theatre, Fort Mason center
Direction and translation David Valayre
March 16 - 26, 2017
$36 General Admission ($21 Students & Seniors)
To buy yourtickets > generationtheatre.com
Agenda
Movie releases, Festivals & DVDs

Theatre plays, Ballet, Opera

Jazz, Rock, Pop, Symphonic & Co

Museums and Art Galleries

If you have some spare time...