CELEBRATE MAKE MUSIC DAY IN OAKLAND WITH LA FLAMME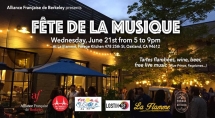 Come and celebrate Make Music Day in Oakland on June 21st, 2017. The Alliance Française of Berkeley and La Flamme have worked together to organize a memorable event.
For years already, we tuned our Make Music Day with the Alliance Française of Berkeley sounds. Bettina Minoue, its director, has always had at heart to offer a friendly, warm and creative moment to the local French American community, with Bay Area musician and bands.
This year won't be any different ! Except that, this time, she had worked with Anne Besset, chef at La Flamme that contributes for months now to popularize the renowned Alsatian Flammekueche recipe. La Flamme installed its red oven (its visual signature) at Forage Kitchen, that calls itself an incubator in gastronomy and food service industry.
Let's meet at Forage Kitchen
on June 21st 2017
5 to 9pm
for (y)our own Make Music Day Celebration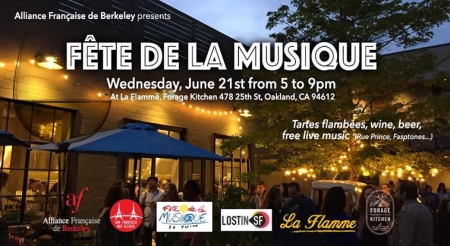 The line up...
The band Rue Prince will perform on wednesday evening. How do they describe themselves? ''A French-infused Blues-Rock band with a twist of Jazz.'' We will add a touch of reggae here and there to add to the ''cool attitude''. We are total fans from the start, or not that far.
10 original songs and covers, in French and English: Black Trombone by Gainsbourg, I'm your man by Leonard Cohen, Stormy Monday by the Allman Brothers, Les Feuilles Mortes, La Vie en Rose... and possibly Summertime.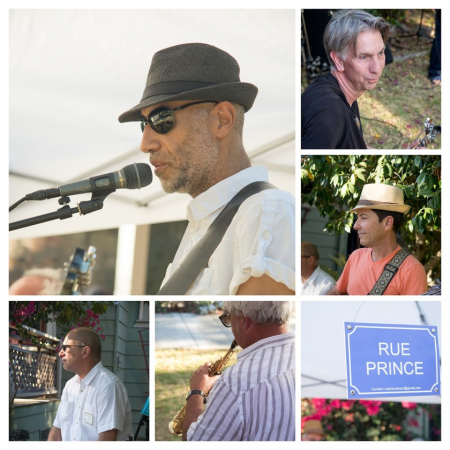 Fasptones with its Pop-Rock sound and Bonita Sound on the Jazz side will also contribute to the celebration.
Watch and listen Fasptones... ''I wish you were here...'' That's what they sing. Like an invitation!
You will also find out about Grupo Tribulacion (great name, btw). You will aalready have met with the Dad with Rue Prince, you will meet the daughter in Groupon Tribulation. Talent requires a lot of work, no question, and some good genes:-)
And the menu...
The Flammenkueches, definitely... that already have built quite a reputation in the Bay Area.
No less than 11 savory recipes with ''la Traditionnelle'', ''la Californienne'', ''la Gratinée''... and the latest addition to the menu... ''La Méditerranéenne''.
You can also try 2 sweet recipes.
Make your choice while they ake the music!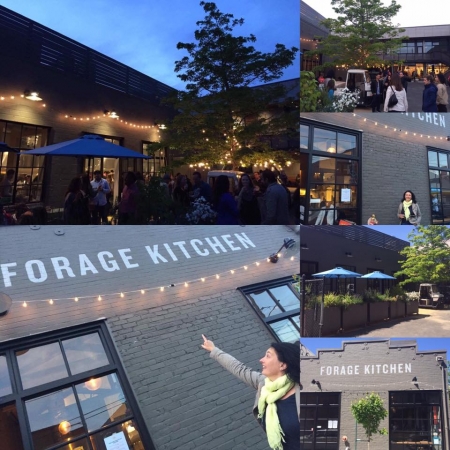 See you on Wednesday at Forage Kitchen in Oakland !
FÊTE DE LA MUSIQUE
Organized by the Alliance Française of Berkeley and La Flamme
@Forage Kitchen
478 25th Street, Oakland
Wednesday, June 21, 2017
5-9pm
Free admission
Agenda
Movie releases, Festivals & DVDs

Theatre plays, Ballet, Opera

Jazz, Rock, Pop, Symphonic & Co

Museums and Art Galleries

If you have some spare time...