Bookstores in San Francisco
In spite of the all digital world we live in, San Francisco has so many bookstores that asserted themselves as strong and hopefully evergreen landmarks in the City.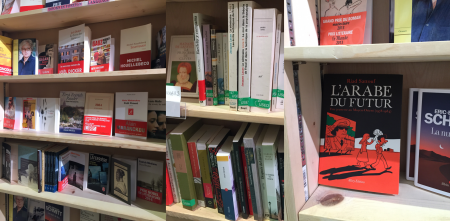 New and used books
Russian Hill Bookstore
Polk meeting place. Pretty warm and friendly store where you will find... books (used ones), but also greeting cards and miscellaneous gifts and widgets.
2234 Polk Street
Argonaut Bookshop
Specialized in the history of California and the American West.
Fyi, Argonauts was the name given to adventurers and pioneers who crossed the Cap Horn to reach California and dig gold.
786 Sutter (entre Jones et Taylor)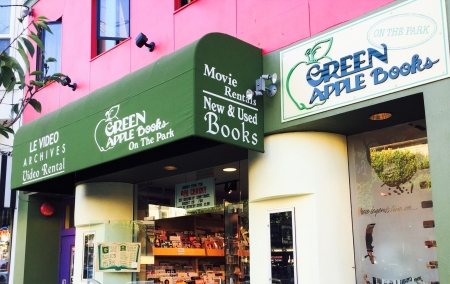 Green Apple Books and Music
New and used books, lots of widgets, stationery items, toys, games... Looks like a big and wide treasure chest. Just wander inside and take your time.
Meeting point on Clement, opened until quite late each and everyday.
THE FRENCH CORNER AT GREEN APPLE
And the relatively new store on 9th Avenue is such a great addition in the neighborhood. Bookstores are where people can meet, talk and share.
Spring 2016, they made the decision to collaborate with the famous Albertine de New York to offer a French corner with recent French booksat affordable prices. We totally love it!
506 Clement Street
1231 9th Avenue (former Le Video location)
Dog Eared Books
900 Valencia
Phoenix Books
3957 24th Street (en face de Whole Foods)
Red Hill Books
401 Cortland
Alley Cat Books
3036 24th street (entre Treat & Balmy street)
4 same kind stores in 4 different neighborhoods.
Economic, environmental friendly, really cosy and nice places.
For schoolbooks, for us or our kids, for gifts, for greeting cards, for some advise on american litterature... Help yourself.
One difference with Alley Cat Books: the art-exhibit-studio-workshop in the back. Great spot!
Their website (pretty attractive and well designed, each store having its own link on it).
Aardvark Books
A classic of its kind... They have some foreign litterature books.
227 Church Street
Borderlands books
Valencia's landmark
866 Valencia Street
Adobe Books
Great address to know on 24th. New and used books. Events and classes to check.
3130 24th Street
Bookshop West Portal
Books heaven in this neighborhood. A landmark of its kind.
80 West Portal Avenue
Independent bookstores:
City Lights
Landmark! Grew up with SF.
261 Columbus av. -- Close to Broadway.
Booksmith
A beautiful bookstore to stop over on Haight street. Books and magazines.
1644 Haight St
Christopher's Bookstore
In Poterro since 1991! Its 25th anniversary on Hoodline.
1400 18th Street (at Missouri)
Local chain bookstores:
Books Inc
3515 California -- Laurel Village
601 Van Ness -- Un peu au Nord du City Hall
2251 Chestnut -- Dans la Marina
Et plusieurs adresses encore dans la Baie.
Chronicle Books
Beautiful website and gorgeous stores full of colours as if we were in a candy store. Tempting!
680 2nd St. – close to South Park
1846 Union – between Laguna & Octavia
The Metreon (165 4th Street) - Brand new, just reopened.
International bookstores:
European Book Co
French, German and Spanish books.
Open to special orders.
925 Larkin = former address
The store moved to Oakland.
New name: European Books and Media.
New address as of June 2012:
6600 Shattuck avenue, Oakland.

A. Cavalli and Co
Italian books. A Café as well. A stop over in North Beach.
Go and have your own experience, because there is no website.
1441 Stockton -- @ Columbus avenue
Globus Slavic Bookstore
332 Balboa
Russian bookstore. War and Peace, original version...
Kids litterature
Most of bookstores above have a kids corner. But here is a few of other ideas.
Charlie's Corner Bookstore
With its tree of knowledge at its center, the store became the Moms' mecka to feed their kids' thought.
4102 24th Street
Museum stores --- Exploratorium, SF Moma, Academy of science….
They always have a kids corner with original, art like, pedagogical books.
Stores links:
Store @ the Academy of Sciences
Children's Creativity Museum
221 Fourth Street (@ Howard Street)
Cooking books:
Omnivore Bookstore
About cooking and everything related to food.
3885 Cesar Chavez
San Francisco Libraries:
In the first place, books will be found at... libraries, of course, where you will find awesome and dedicated people to help you, guide you and advise you.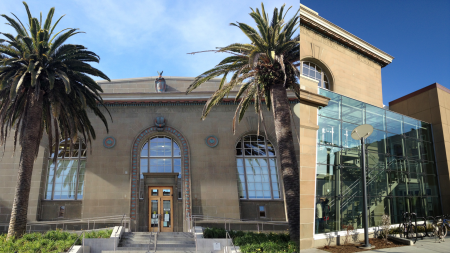 Les bibliothèques de San Francisco
There are 27 public libraries in San Francisco. Some of them, like the one in the Inner Richmond, have been remodeled and have even kids corners.
The latest great news... new schedules with extended hours for most of them and 7 days a week openings. The SF Examiner will give you detailed information. www.sfexaminer.com/sfs-branch-libraries-expand-hours-remain-open-7-days-week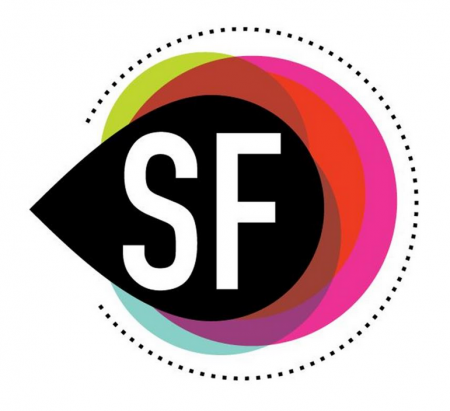 Agenda
Movie releases, Festivals & DVDs

Theatre plays, Ballet, Opera

Jazz, Rock, Pop, Symphonic & Co

Museums and Art Galleries

If you have some spare time...