BI-RITE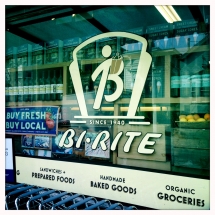 New store just opened on Divisadero
Bi-Rite, 100% made in, for and by SF!
A great story:
The grocery store opened in 1940 and since then became a real institution in the Mission.
The Moganmam family owns the business since 1964. And in 1997, Sam and Raph, sons and nephews of the owners, went on with the store and added their own touch. A family story that is part of SF story now.
Sam, who used to work at Jardiniere, downtown SF, insisted on stocking best quality products and then allowed Bi-Rite to provide restaurant quality food for take out.
The values: Love, Passion and Integrity. Whole Foods even sent some staff at Bi-Rite to learn and get inspired!
The community as a core value. 18 reasons, their non-profit community art & food space, is a great illustration
So hard to make it short!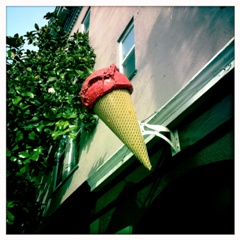 Let's tell our own experience...
On 18th, between Dolores & Guerrero. We just love it! But who does not, really?
Their ice creams are our favorite (balsamic strawberry is just beyond delight!), 18 reasons so welcoming space, the good flavors in the store that make you so hungry, cheeses, Kusmi teas, the colors and organization of fruits and vegetables, mushrooms, chocolates...

Bi-Rite, bigger and wider, just opened its new location on Divisadero, replicating the same nice and cosy atmosphere. From now on, you will wait at the Independent with your cone in the hand. New style, new era!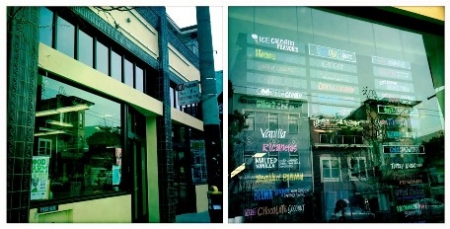 We knew that the Divisadero was the place to be. Bi-Rite new opening just confirmed it. The whole neighborhood keeps thriving. On the same block: NOPA just next to Bi-Rite, Population (hairsalon so Divisadero!) just in front, San Franpsycho at the corner. We can't wait for new surprises to bloom!

Les environs de Bi Rite Divis
Bi Rite
3639 18th Street (between Guerrero & Dolores)
550 Divisadero NEW STORE
Agenda
Movie releases, Festivals & DVDs

Theatre plays, Ballet, Opera

Jazz, Rock, Pop, Symphonic & Co

Museums and Art Galleries

If you have some spare time...