BELLO MOTO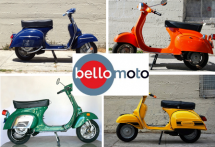 How to be hipper than the hipsters in San Francisco?
... Ride a scooter from Bello Moto!
At Bello Moto, the team shares its passion for scooters.
They offer restoration, service and support for vintage Vespa scooters and have most probably the largest choice of vintage Vespas for sale in the US as part of their Collection. They call it the BM Collection gathering gorgeous, amazing vintage scooters and motorcycles, rare and old originals which, for some of them, had been sitting in someone's garage and never used.
Bello Moto... it all started 2 years ago. Behind Bello Moto, you will find Gianluca, who made the whole project happen, Paul, the expert on all things technical (scooter encyclopedia is his middle name!), Xavier who juggles with marketing, communication, finance and strategy and Joe, the mechanic, who could talk about scooters for hours without missing a beat.
Being European, loving Rome, we wondered, when we moved to San Francisco, why there were so few scooters in the streets of the city. We have not found all the reasons yet. But it is a fact that the traffic increased in the last few years and that should encourage people to use scooters throughout the city.
For those who are nostalgic with their European life style and those who fell under the charm of classic lines of Vespas and Lambrettas, we met Bello Moto founders and asked them some questions.
What is Bello Moto's specialty?
Basically... Vespas!
We restore scooters vintage Vespas primarily and on occasion Lambrettas. We have fixed and maintained new ones from time to time but it is really not our core business. We do not have a catalog: we put our scooters on sale on line.
We do not import scooters. We focus on the US market. And there is a pretty good rationale behind that decision!
Since we specialize in vintage vehicles, one of the things that is a basis for our business is our deep technical knowledge... not only of how the scooters work, but where to find rare and obsolete parts. Many parts for these 30-40 year old scooters are being remade (and more every day), but some are not. We know how to repair the parts that are not being made, or if necessary source irreparable parts from old stock throughout the world. With the Internet, we can easily source parts from multiple suppliers everywhere around the globe. Additionally, although we do not import scooters, we do have clients all over the world. One of our strong suits is in the logistics area. We ship scooters domestically in every state, and for that matter, throughout the world. I should mention that, for the most part, Vespas were bought in the U.S. in the 60's and 70's more as fun toys than as serious transportation. This is different than Europe, or the rest of the world. Because of that, most of the scooters that we find are in excellent condition and have travelled relatively few miles. This holds a lot of value for our customers, since the vintage scooters in Europe have generally had a hard life.
You even won prizes for your scooters. Please tell us more about them!
The competition where we received second place was at "Concorso Italiano" last August. One of the several dedicated venues during the famous "Monterey Auto Week".
Competition is typically from local "Aficionados" (Scooterists) who work on their own scooters and restore them to their "Original Glory". These projects take a very long time, sometimes years to complete. Bello Moto does it in a few short months and at a reasonable cost ($3,000 to $7,000 depending on the rarity of the scooter and the requests from the client), which allows the owner to enjoy his precious possession, riding it every day or parking it in his own Living Room as a "Show" piece!

What makes a vintage scooter so valuable?
We have restored and sold some fine scooters. But we are not the only ones. There are some aficionados who have a passion and can do some wonderful work. One of the keys to increasing the value of your vintage scooter is to use original parts and get the paint right (it can be very difficult!). Some of these parts, in the US can be very rare. We can find them. But sometimes they take months before we can find one at the right price.
One of the benefits of the vintage scooter is that if it is well maintained, it does not lose value and often even appreciates! And at the same time, is it fun to ride!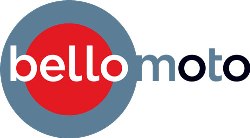 Bello Moto
275 8th Street, 2nd Floor San Francisco
If you want to take a closer look or ask questions to the specialists, simply call to arrange a personal appointment.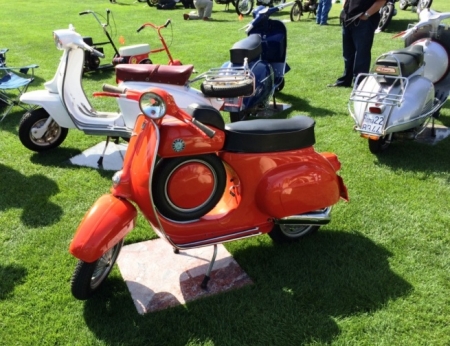 Bello Moto exhibited 4 of its gorgeous engines from the BM collection. The Quail Motorcyle Gathering has a reputation of being a Concours d'élégance. Bello Moto significantly contributed!

Agenda
Movie releases, Festivals & DVDs

Theatre plays, Ballet, Opera

Jazz, Rock, Pop, Symphonic & Co

Museums and Art Galleries

If you have some spare time...