Beautiful Boy, with Steve Carell and Timothée Chalamet, opens in San Francisco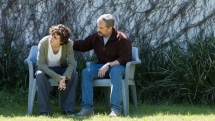 Beautiful Boy, the latest movie of the Belgian director, Felix Van Groeningen, starring Steve Carell and Timothée Chalamet opens in San Francisco.
The movie Beautiful Boy was presented at the latest Mill Valley Film Festival with Steve Carell and Timothée Chalamet attending the event.
The story briefly...
Beautiful Boy is a deeply moving portrait of a family's unwavering love and commitment to each other in the face of their son's addiction and his attempts at recovery. Based on two memoirs, one from acclaimed journalist David Sheff and one from his son, Nic Sheff. As Nic repeatedly relapses, the Sheffs are faced with the harsh reality that addiction is a disease that does not discriminate and can hit any family at any time.
The trailer...
Steve Carell is giving a tremendous performance, expressing the total disarray and helplessness of a father who assumed that his love for his son would be enough but finds out that he has no idea what to do, that he is so weak in front of this vertiginous drama.
And Timothée Chalamet, the young French American actor who was revealed in ''Call me by your name'', is asserting himself as a talented performer.
The movie is an esacpe... the father is witnessing his son escaping him, escaping his family and actually escaping himself. David is constantly reaching the limits of what he can do, what he can accept to do, without sacrificing his family for his son who is lying and dragged in a self-destructive spiral.
That's the kind of movie that triggers reflections and questions, but also doubts. If you are a parent, you can't help but wonder what you would do, should do, what you would be able to accept in such a dramatic situation.
Some scenes take place in Haight-Ashbury, the Tenderloin or with the Golden Gate Bridge in the background. This familiar environment for us creates a proximity that adds all the more to the emotional impact of the movie.
BEAUTIFUL BOY
Opens in San Francisco
Agenda
Movie releases, Festivals & DVDs

Theatre plays, Ballet, Opera

Jazz, Rock, Pop, Symphonic & Co

Museums and Art Galleries

If you have some spare time...