BARRIO MANOUCHE WILL PERFORM AT THE TLF IN SAN FRANCISCO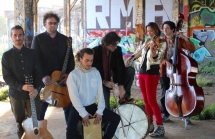 Gypsy Jazz mood and attitude at the Théâtre of the Lycée Français of San Francisco on Friday, February 20, 2017.
You may already know them. They regularly perform here and there in San Francisco, between the Revolution Cafe on the 22nd Street, renowned for its musical program, the Chapel Bar or the great Club Deluxe on Haight Street.
They also recently performed at the Great American Music Hall, one of the favorite concert venues in San Francisco, sought after for its charm but also for its great acoustics.
Barrio Manouche mixes diverse influences with its musicians from Spain, Quebec and North California. Javier Jimenez guitarist/composer from Spain, and his incredibly skilled musicians,(Magali Sanscartier on violin, Alex Zelnick on rhythm guitar, Luis Jimenez on cajon,Cyrill Guiraud on saxophone and Scott Lindorfer on upright bass) will perform their own instrumental repertoire to take you on a magical journey.
No need to talk too much. Just listen to them and also, keep in mind that the Lycee Français of San Francisco used to be the Conservatory of Music. Its auditorium is a gem that comedians and musicians appreciate a lot.
Hard to label them. And yet, their inspirations are pretty obvious including the swing of Louis Armstrong and Sidney Bechet, the hot jazz of Django Reinhardt and Stéphane Grappelli, the gypsy sould of Eastern Europe, the flamenco of Paco de Lucia and incredible sounds of Miles Davis, Ornette Coleman and John Coltrane. Cool choices!
We recently listened to some songs. We loved Bosa Mosquito followed by La Marcha Gatina. Hard to resist... anyway, why would we? should we?
BARRIO MANOUCHE
@ TLF - Théâtre du Lycée Français
Friday, February 20, 2017
To buy your tickets, click here.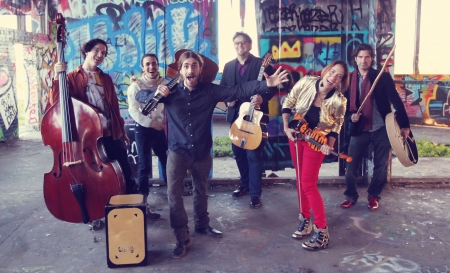 Agenda
Movie releases, Festivals & DVDs

Theatre plays, Ballet, Opera

Jazz, Rock, Pop, Symphonic & Co

Museums and Art Galleries

If you have some spare time...