BANKSY IN SF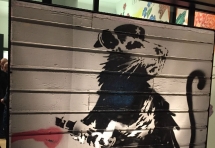 Banksy's rat extends its stay in San Francisco until September 1st, 2015.
Banksy's Haight Street ''bereted'' rat is coming back to town. Let's follow him.
Banksy's career is such a long story, made of controversy, rumors, provocations, happenings, symbols. Since the Tate Britain episode in 2013 to the West Bank Barrier, Banksy feeds conversations, debates on art, street art, its part in society, its legitimacy. And despite everything, he managed to remain anonymous besides being one of the most famous street artist.
But let's take a closer look at Banksy's story in San Francisco. Actually, with the current exhibition at the de Young Museum, Keith Haring: The Political Line, it makes even more sense. It obviously raises the question about Street Art and where it belongs to. Should it be exhibited in a museum at the risk of losing its soul, meaning, purpose?
Banksy's story in San Francisco, briefly...
In 2010, Banksy wandered in San Francisco with his stencils and left 6 images that have been located and immortalized through pictures and videos.
Here is a short vidéo of these 6 realizations by the documagazine Warholian.
We just retrieved a picture. Thanks a lot Emma ! The Valencia Rat right above the Amnesia. What a coincidence ! What a symbol ! Ephemeral art and oblivion.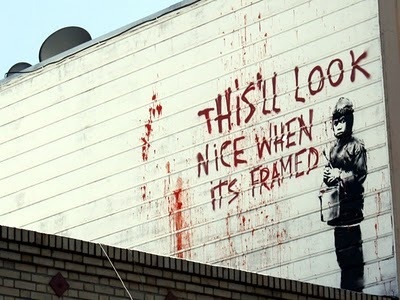 (c) Emmanuelle Serroy-Leaf
Local authorities consider graffitis as visual pollution.
Below is a short excerpt of the article...
(a) Graffiti is detrimental to the health, safety and welfare of the community in that it promotes a perception in the
community that the laws protecting public and private property can be disregarded with impunity. This perception fosters a
sense of disrespect of the law that results in an increase in crime; degrades the community and leads to urban blight; is detrimental to property values, business opportunities and the enjoyment of life; is inconsistent with the City's property maintenance goals and aesthetic standards; and results in additional graffiti and in other properties becoming the target of graffiti unless it is quickly removed from public and private property.
(b) Graffiti results in visual pollution and is hereby deemed a public nuisance. Graffiti must be abated as quickly as possible to avoid detrimental impacts on the City and County and its residents, and to prevent the further spread of graffiti.
(c) It is the purpose of this Article to provide a program for the removal of graffiti from walls, pavement, structures and other improvements on both public and private property. (Added by Ord. 29-94, App. 1/14/94)
To read the whole article, click here.
Most of these images disappeared. Some of them have been covered and painted in order to abide by the city rules. Brian Greif succeeded in convincing the Red Vic owner to let him save the Haight Street rat. In exchange, he promised not to sell the graffiti that turned from work of street art into work of art.
In 2014, Brian Greif even launched a Kickstarter campaign to renovate and refurbish it.
It was a success. And he definitively kept his promise refusing many lucrative offers. He even contacted the de Young and the SFMoma in his efforts to bring the rat back home in SF. But no agreement could be found between curators and the artist himself.
You can read the whole detailed story in the SF Chronicle.
Greif said. "I gave my word that I wouldn't sell it. This is for public display and to generate discussion about street art."
In 2015, the story is going on and takes a nice turn! Indeed, the gallery 836M will shelter Banksy's work of art for about 6 months.
Away from graffitis... but not from eyes, it will be displayed in the gallery's window and everybody will be able to see it until July 11, 2015. Street Art it was, Street Art it remains!
Last update... Even though the gallery will be closed for about a month, the Haight Street Rat will be still displayed until September 1st, 2015.
We bet that 836 Montgomery will become a prerequisite for any San Francisco visitor!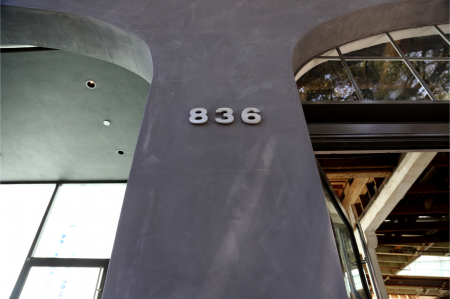 Agenda
Movie releases, Festivals & DVDs

Theatre plays, Ballet, Opera

Jazz, Rock, Pop, Symphonic & Co

Museums and Art Galleries

If you have some spare time...