Bakeries and pastry shops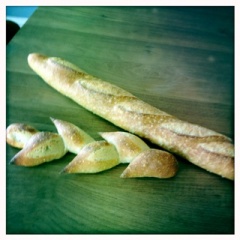 b. Patisserie
Macarons are to die for, kouign ammans are definitely baked with butter (so good!), bread, supercalifragilidelicious pastries!
The location on California is big and wide, filled with light.
Belinda Leong's partner is Michel Suas (the founder of the San Francisco Baking Institute and Thorough Bread Bakery): glorious partnership!
2821 California @ Divisadero
Thorough Bread
One of SF's best French baguette, deliciously crusty. Try their Chocolate Bread et pastries as well. Charming patio for lunch and friendly staff.
248 Church street (proche de Market st.).
Closed on Monday.
Le Marais Bakery
One of the latest bakery openings. Tiny blue store on Chestnut that should get extended soon. The tradi baguette is awesome (as in good, tasty, crusty and reasonably crunchy) which is a good point especially when you're named after a French parisian neighborhood.)
2066 Chestnut Street
Tartine bakery & cafe.
This bakery is an institution mostly among americans. Bread is served at 5pm from Tuesday to Sunday. They also serve delicious Croque Monsieur lunch but be prepared for long lines. Extremely crusty bread.
600 Guerrero street, Mission.
Acme bread.
On of the Bay Area's tastiest fresh bread. A Berkeley based bakery, you can buy their organic baguettes, batards, rolls, pain epi, pastries... in SF at the Ferry Building Market Place, in Mountain View, in Berkeley and in many grocery stores.
1 Ferry Building, Embarcadero, SF
846 Independence av, Mountain View
1601 San Pablo Av, Berkeley
Craftsman & Wolves
So Valencia! Simple, uncluttered, a menu offering so many sweets for breakfast, lunch and tea time! Plus a terrasse on Valencia.
746 Valencia (@ 18th Street)
Arizmendi Bakery
A neighborhood bakery based on cooperative principles. Their bread is crunchy and their Gourmet pizza, served at 11:30am is a must !
1331 9th avenue, Inner Sunset
1268 Valencia street, Mission
Closed on Monday.
Noe Valley Bakery
A very good neighborhood bakery that sells delicious baguette, lemon tarts, cupcakes... and amazing custon made kids birthday cakes.
La Boulangerie
A French institution in the Bay Area ! This friendly neighborhood bakery with many stores in San Francisco sells organic breads, traditionnal French pastries, seasonal treats, like galettes des rois or buches de Noel + wholesome breakfast, soup and salads for lunch. Warm countryside atmosphere.
PanoRama Bread.
Artisan bread, served in some SF restaurants and at Alemany farmer's Market on Saturdays.
Andersen Bakery
A small bakery which deserves to be mentioned here. Fresh bread and good sanwiches. Two locations in SF : Japan Town and downtown San Francisco in Crocker galleria.
Schubert's Bakery
Their Mousse Cakes are best sellers.
521 Clement street (@6th av).
East Bay:
La Bedaine
A reference!
1585 Solano Avenue, Berkeley
La Farine
Everything you like and beyond.
1820 Solano Ave, Berkeley
et 3 adresses à Oakland
Dans la Napa Valley:
Bouchon bakery.
If you visit Napa Valley, you must stop by Bouchon Bakery and taste their macaron au caramel, lemon tart, croissant aux amandes… You won't regret it ! (well yes, you will ;-)
Yountville, Nappa Valley.
South peninsula
Petits Pains
Opened in Burlingame beginning of 2013 but its reputation easily and quickly reached San Francisco. Bread is awesome. We tasted it at Bar Amélie that has the bright idea to pair it with its ham and cheese plates.
1730 Gilbreth Road
Burlingame
Agenda
Movie releases, Festivals & DVDs

Theatre plays, Ballet, Opera

Jazz, Rock, Pop, Symphonic & Co

Museums and Art Galleries

If you have some spare time...