At 836M, the French artist Eric Michel lets the light speak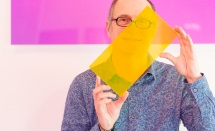 La lumière parle (The Light speaks), the first solo exhibition ''highlighting'' Eric Michel's work is currently presented at the 836M gallery.
We were so glad to meet Eric Michel while he was about to finish his residency at the 836M gallery. He spent 2 weeks in February in San Francisco, completing his work for this special exhibition dedicated to light and space.

Photo by Sabrina Bot
La Lumière Parle was co-curated by Agnès Faure along with independent gallerist Vanessa Suchar Marcus. The objective of the show is to produce what Michel calls a ''total work'', one that includes light, colors and sound in dialogue with the space—both gallery and surrounding office/work space—creating a sense of harmony through various media: fluorescent sculpture, photography, painting, video and colored films tinting natural and artificial light throughout the day.
Vanessa Suchar Marcus who likes to call herself a ''Galeriste sans galerie'' (www.vanessasuchar.co) has been working since 1998 to promote the work of young and emerging artists. She has been representing Eric Michel since the beginning of his career.
Vanessa introduced Eric Michel to Agnès Faure. Following their first conversation about him, a meeting with Julie and Agnès was organized in Paris. ''Coup de coeur'' for the artist and his work. That is how Julie and Sébastien Lépinard, founders of 836M, and Agnès Faure, its curator, describe the encounter.
Agnès explained to us that, hosting an exhibition with Eric Michel, made so much sense, considering the gallery's logic and ambition, which is to alternate local and international artists, famous and less accessible ones, covering styles and arts as diverse as street art, painting, photography, sculpture, dance...
On Eric Michel's side, the rational was also pretty obvious. Coming to San Francisco, showing his work in the birthplace of light art, and continue the tradition initiated by artists like James Turrell, Dan Flavin, and Doug Wheeler, who inspired him so much, is such a symbol and an accomplishment.
Eric insisted about the project itself. He totally made his the spirit and ambition at 836M, which is to encourage interaction between the public and the artist, to connect them, by literally building bridges.
Eric was also grateful for the flexibility with this residency that took into consideration professional commitments he already had in France. So he came a first time last Fall and a second time in February to complete his artistic work and organize the exhibition itself.
With this collaboration, both 836M and Eric Michel explored new territories and it resulted in a new experience for each of them: La Lumière Parle is the gallery's first exhibit dedicated to light and space. It is also the first ever solo exhibition in San Francisco for Eric Michel.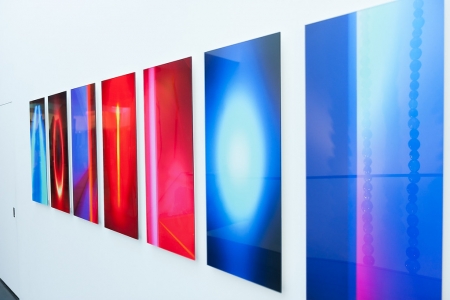 Les Moulins de Lumière by Eric Michel @ 836M
Photo by Sabrina Bot
After this short introduction about their working together, Eric invited us to some kind of a guided tour of the exhibition that features close to 30 works of the artist, including 22 photographs produced specifically for the show, a mural, and 4 light sculptures/installations, videos, as well as several situations around the gallery environment that will redirect available light from skylights, windows and other light sources onto walls and other surfaces.
We started with ''La Lumière Parle'', main and emblematic creation which summarizes somehow what light means to Eric. ''Behind light as a physical object, there is another dimension to light which is a medium, a language­ an artistic language, which can convey emotions and sensitivity in a way far beyond usual language''.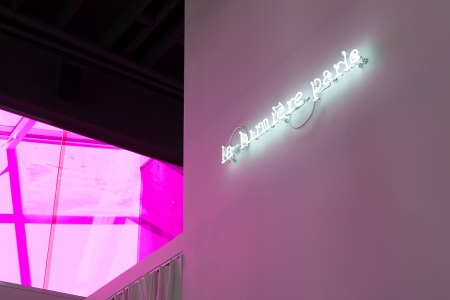 Photo by Sabrina Bot
Afterwards, we followed Eric, telling us for each work the story behind, like a spark who triggered the whole creative process. It is often funny, somethimes scientific, almost mathematical, always source of wonder and awe.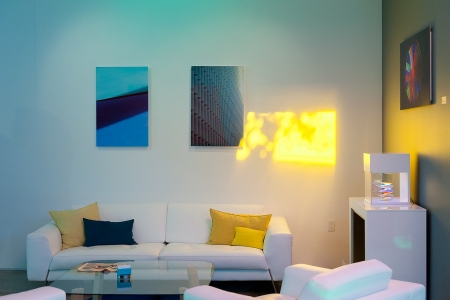 SF Still Light Diptych by Eric Michel @ 836M
Photo by Sabrina Bot
We loved the story about the ''still lights'' referring to ''still life''. These are still life's but the object is light. The two photographs are examples of them. One was taken on board the ferry to go to the Golden Gate Bridge. It was the same day as the triptyque I took when it was foggy. On the way back it was sunny so I felt it was an interesting contrast. What interests me most is that you have two different colors, two different spaces and the light creates a third partition that plays with the diagonal.
Photo by Sabrina Bot
Eric Michel explored San Francisco, but also the gallery itself. This exhibiton has been a way to seize the gallery's space, to ''tame'' it with its lights and vibes, angles and surfaces, skylights and walls. Eric was free to roam around. He enjoyed interacting with Jean-Michel Othoniel's necklace, playing with the ''skylights'' (that became ''skyscapes'' referring to Turrell's ''skyspaces''), creating the ephemeral mural, Monochrome of Light, Orange...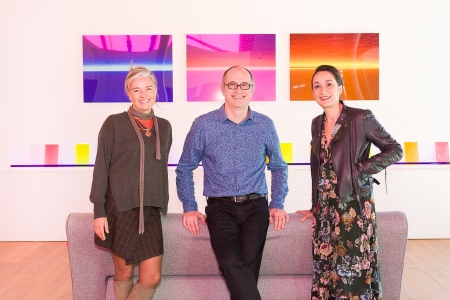 Julie Lépinard - Eric Michel - Agnès Faure @ 836M
Photo by Sabrina Bot
Thank you so much to Eric Michel, and also Julie Lépinard and Agnès Faure for their warm welcome. We loved this amazing color factory imagined, conceived and created by Eric, an exhibition that changes with the natural light that fills the gallery, thus revealing its multifaceted personality.
One of the first thing Eric told us is that his art aimed at re-enchanting life. Mission so accomplished at 836M.
[email protected] - ''La Lumière Parle''
Until June 8, 2018
Extended until September 5, 2018
Wednesday to Friday
11am - 6pm
or on appointment.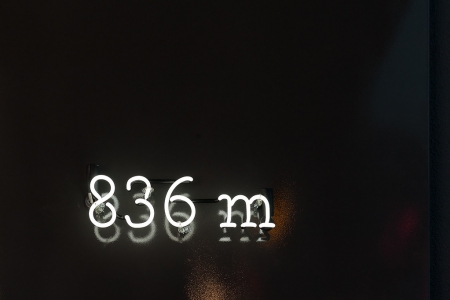 Photo by Sabrina Bot
Agenda
Movie releases, Festivals & DVDs

Theatre plays, Ballet, Opera

Jazz, Rock, Pop, Symphonic & Co

Museums and Art Galleries

If you have some spare time...