ALONZO KING LINES BALLET AT THE YBCA
The renowned dance Company of San Francisco is back on stage at the YBCA for 8 extraordinary representations from April 21 to 30, 2016.

There is a few artistic traditions in San Francisco. Alonzo King and his contemporary dance company are definitely part of them.
Attending a performance by Alonzo King Lines Ballet is a renewed stunning experience for erudite people as well as for neophytes. The emotion, the intense physical performance, the definitively modern and surprising direction always strikes the audience.
LINES Ballet, 2016 Spring Home Season. Photo: RJ Muna.
Bringing their acclaimed partnership to the dance stage for the first time, tenor saxophonist Charles Lloyd and jazz pianist Jason Moran unite with Alonzo King LINES Ballet in a world premiere for this spring season. King's choreography is fertile creative ground for the trailblazing duo—two generations of jazz masters who share "an unerring ability to get to the emotional heart of a song," according to JazzTimes. Forever rooted in the canonical structures of the past, ballet dancers and jazz musicians mine the present moment. Together they revel in the freedom borne of exacting discipline, and boldly forge ahead. Due to touring commitments, Lloyd and Moran will be performing live for the first four nights only, but their music will continue throughout the season.
King's critically acclaimed Shostakovich also returns to the stage this season. Set to four of the composer's string quartets, the piece showcases the ardent and electric dancing of LINES company members. The short video below will give you a better idea, for those who never attended one King's company performance, of the graceful creativity of his choreographies.

Alonzo King Lines Ballet
Yerba Buena Center for the Arts,
April 21 - 30 avril 2016
Tickets: $30-$70
April 27 - 29 $20 Terrace seats available with student ID
Read more and buy your tickets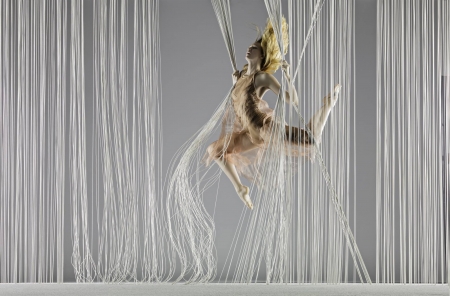 LINES Ballet, 2016 Spring Home Season. Photo: RJ Muna.
Agenda
Movie releases, Festivals & DVDs

Theatre plays, Ballet, Opera

Jazz, Rock, Pop, Symphonic & Co

Museums and Art Galleries

If you have some spare time...