ALDEA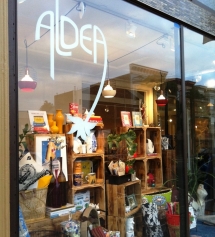 Aldea Home offers a gorgeous bright space, dedicated to design and decoration on Valencia! "Aldealy" located in one of our favorite neighborhoods, we simply love it!
Aldea's ambition is to inspire us for every room of our home. It is typically the store you want to know and share.
Aldea got way bigger and settled on 890 Valencia (corner with 20th street), and made its own this wide space (7000 square-feet... sounds like a dream!) formerly occupied by the renowned X21-Modern.
The store is simply and basically magnificent. It is organized around distinct spaces (office, bedroom, kitchen, living room...), constantly redesigned and redecorated to ... better inspire us!
In addition to the great selection of gifts (from Pylones accessories to candles, frames, beauty items...), the furniture range is amazing and so appealing. (the "rocking" bed currently displayed definitely rocks!). Almost everyday, a new table is dressed. We kind of feel like we are the guests!
If you don't have time to go and visit the store (which is sad), you can shop online. You can also create a registry. Let's get married... again!
Aldea Ninos that used to be a bit further on Valencia, joined the flagship store! Same spirit, same good taste, same great selection for our beloved tiny ones!
Aldea Home + Bay
890 Valencia @ 20th Street
Everyday - 10am to 7pm.
Except Sunday 10am to 6pm
Agenda
Movie releases, Festivals & DVDs

Theatre plays, Ballet, Opera

Jazz, Rock, Pop, Symphonic & Co

Museums and Art Galleries

If you have some spare time...