AIR WILL BE IN SAN FRANCISCO IN JUNE FOR A UNIQUE CONCERT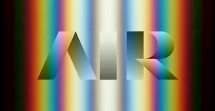 The French duo, AIR, will be in the air this June. They were already in SF last summer. It looks like they liked it. They will perform at the Masonic on June 23.
Last year, AIR was part of the beautiful line-up of the renowned outdoor festival, Outside Lands in the Golden Gate Park. The park resonated with their light and sound park and photos and videos invaded Instagram.

AIR is coming back in June, indoor this time, at the Masonic.
In June 2016, AIR had released a Best-Of album, entitled 20 Years. At least, you know what to expect. At the time of its release, here is what Pitchfork said... No place is given to nostalgia. Instead, they kind of revisited their glorious career and added some rarities.
Afterwards, they performed in various festivals here and there. And today (as we writ this article), they just announced a US tour, the first one since 2010. Time is flying by.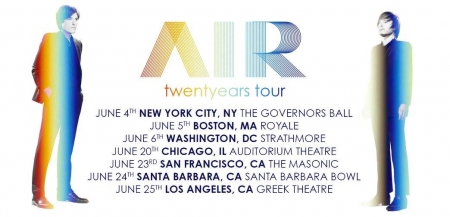 Nevertheless... for the story... we were lucky enough to see Jean Benoit Dunckel, at the Rickshaw Stop 5 years ago. At that time, he had left the AIR cape behind and had put on the Tomorrow's World's one instead with Lou Hayter. Memorable concert with some other French bands such as Lescop and Housse de Racket aussi. OOH LA L.A. at the Rickshaw Stop.
Jean-Benoît Dunckel and Nicolas Godin will make the Masonic theirs for a unique concert in San Francisco on June 23. Be ready. Tickets will go on sale April 14.
AIR
@ the MASONIC
Friday, June 23, 2017
For more details and buy your tickets , click here.

Agenda
Movie releases, Festivals & DVDs

Theatre plays, Ballet, Opera

Jazz, Rock, Pop, Symphonic & Co

Museums and Art Galleries

If you have some spare time...