After La Boulange ?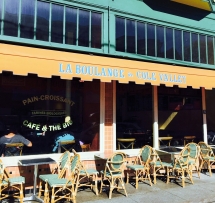 You should be interested in these 3 articles that were shared in the last 2 days to tell us what is going to happen to our beloved and dear Boulange!
Last June, we could not believe the news announcing that the 23 La Boulange locations in San Francisco and the Bay Area were going to be closed. Since then, with a nice and warm summer time in San Francisco, we could enjoy La Boulange outdoor spaces and almost pretend everything was fine.
But now, it's back to reality time and closing dates are announced and already scheduled.
Thanks to Hoodline, CBS et Eater SF, here is what we know for now.
We learn that...
... La Boulange on Columbus and the one on Market Street will close as soon as this Friday, August the 28th! Hoodline gives us a hint about the calendar of upcoming closing dates.
Read the article on Hoodline,
Rumors Swirl as La Boulange Closures Start this Friday.
... it's all about closing dates, but also... re-opening plans. Some locations should reopen under a different name (Of course. La Boulange belongs to Starbucks now.) CBS Local tells us a bit more about it.
Read the article on CBS Local,
La Boulange Locations in San Francisco to Begin Closing.
... we already know some locations that should reopen. Eater SF mention 6 of them, possibly 7 including Cole (yes!!!!) and Pine (double-yes!!!) Eater SF as well as Hoodline are connected with a network of tipsters whose ears aare wide open.
... it's not official, that we should wait at least another 2 weeks before getting fresh news, but that Pascal Rigo himself is part of the story. Eater SF has a knack for headlines, hasn't it?
Read the article on Eater SF,
Is Pascal Rigo Reopening La Boulange in SF?
So, we stay alert and will keep you informed as soon as we know more about La Boulange future. In the meantime - but don't wait too long! - run and take a selfie with a coffee and a croissant. #lastselfieinLaBoulange
Agenda
Movie releases, Festivals & DVDs

Theatre plays, Ballet, Opera

Jazz, Rock, Pop, Symphonic & Co

Museums and Art Galleries

If you have some spare time...