After Donald Trump wins Presidency, Wall Street did not fall as expected and anticipated.
Tuesday is already behind us. The country is still under the shock (positive or negative one) and Facebook and Twitter have been drowned with thousands of posts. And then, Wall Street took everybody by surprise. We asked Ludo Thomasson to shed some light about what happened.
It was supposed to be another disaster for a different kind of 9 11. In the end, it looks like, defying all projections - which is actually the story of this election - Wall Street surged after a brief sharp drop.
A few weeks ago, we have met Ludo Thomasson, French American financial advisor in San Francisco and presented him to you. We contacted him and asked him about what just happened in Wall Street. He was kind enough to take some time and answer us.
What will you say or have already said
to your clients and partners?
Ludo Thomasson: Tuesday night, at 11pm stock market futures were indicating that the market would open down 5%. While this decline would not have been bad enough to rank in the top 20 worst one-day declines in history, it would have been close. Declines of similar magnitude have mostly occurred in the midst of deep recessions or due to acts of war.
However, as we write this, the market is trading up 1% from yesterday's close and up dramatically from overnight lows. The 6%+ rally from last night would make this one of the largest market reversals ever outside of the extreme volatility seen during the depths of the financial crisis.
We know that many of our clients are concerned about the impact of the market volatility on their portfolios and are wondering how we plan to manage accounts in the weeks and months ahead. The truth is that the volatility over the last twelve hours lays bare the reality that the market is completely unpredictable in the short term. We can look to history and take comfort in the fact that volatility like this has generally been a reason to buy, not to sell stocks. But we must also acknowledge that the past does not predict the future.
At Ensemble Capital, we have generated superior returns over almost two decades not by guessing how the market will react to various events, but by investing our clients' assets in strong companies and holding them even during times of market turmoil. Market action today highlights the distinction between stock market returns and individual stock returns. While the market is up, some stocks are up 2%to 3% or more, while others are down 2% to 3%. Important as well is that long-term interest rates are moving up sharply. Higher interest rates hurt some companies and help others. At Ensemble, we have generally positioned our stock and bond holdings with the expectation that interest rates would move higher and so the shift today is supportive of our strategy.
One thing to keep in mind is that the stock market is not a mechanism for passing judgement on everything that happens in the world. Instead, the market is simply a way for investors to trade ownership of various companies whose value is primarily a function of how much those companies will earn in the future. The majority of the issues debated by our political parties have little impact on the earnings of public companies.
How to explain this sudden surge?
Lido Thomasson: The rally is partly based on 3 aspects that rapidly emerged or are expected to happen.
The finance and biotech sectors gained on the expectation of less regulation.
Trump's acceptance speech was docile and non confrontational
Trump's acceptance speech focused on on infrastructure spending which will bring some potential inflation.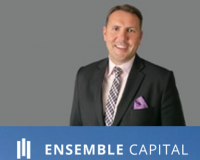 Ludo Tomasson
Partner at Ensemble Capital
1350 Bayshore Highway Suite 460
Burlingame, CA 94010
Agenda
Movie releases, Festivals & DVDs

Theatre plays, Ballet, Opera

Jazz, Rock, Pop, Symphonic & Co

Museums and Art Galleries

If you have some spare time...