A beauty tip : Laugh and wear Benefit cosmetics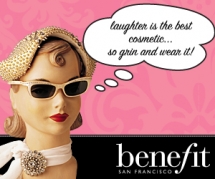 1976. The first Benefit store (called "The Face Place" at that time) was established in San Francisco......(in the Mission district to be precise) by two makeup passionate twin sisters. Their motto: "Feeling good is as important as being beautiful". Today Benefit cosmetics is a must-brand and can be found all around the world in department stores counters and freestanding store, including a flagship boutique in Mill valley.

Since Benefit was born in SF, we thought you should know about it. But that's not all…
We love the quirky laugh-out-loud names they choose for their products (The POREfessional, Girl meets Pearl, Stay don't stray, Prrrowl, BADgal lash, Benetint, Sugarbomb, Dr. Feelgood ...) and the old-fashion yet glamorous retro look of the packaging, that makes us want to buy everything just to decorate our bathrooms.

Benefit Cosmetics can be found :
2117 Fillmore Street, Pacific Heights
2219 Chestnut Street, Marina
262 Sutter Street, Downtown near Union Square
and even on 4th Street, Berkeley
On Benefit Cosmetics' website

At Sephora and department stores like Bloomingdales and Macy's.
Agenda
Movie releases, Festivals & DVDs

Theatre plays, Ballet, Opera

Jazz, Rock, Pop, Symphonic & Co

Museums and Art Galleries

If you have some spare time...